Turin unveils winter Olympics mascots
(Agencies)
Updated: 2004-09-29 10:09
Cartoon characters named Neve and Gliz, representing a ball of snow and a block of ice, are the mascots for the 2006 Turin Olympics.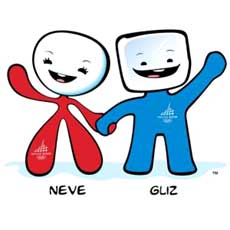 This drawing of the 2006 Turin winter olympic mascots Neve and Gliz was made available by TOROC (Torino Organizing Committee) during their presentation in Rome, Tuesday, Sept. 28, 2004. The mascots, designed by Portuguese Pedro Albuquerque, represent a ball of snow and a block of ice. [AP]

Skiing great Alberto Tomba was among the Italian winter sports champions at the ceremony. A panel of judges selected Neve, who is red and represents snow, and Gliz, sky blue and symbolizing ice, from more than 200 entrants. The two appeared in a cartoon animation before puppets of the characters hopped onto the stage, dancing and kissing guests.

Pedro Albuquerque, the Portuguese designer of the characters, said they were "meant to represent Olympic values like friendship, fair play and the spirit of competition."

International Olympic Committee president Jacques Rogge repeatedly has urged Turin organizers to show a sense of urgency in their preparations to avoid the last-minute rush of the Athens Games.

Organizers said preparations are on track. Turin chief organizer Valentino Castellani said the Olympic sites are almost ready, and venues will be tested at international events beginning in January 2005. Among them are the European short-track speed skating championships on Jan. 14-15, and the European figure skating championships on Jan. 24-30.

The IOC has expressed concern about the pace of venue construction, shortage of accommodations and lukewarm support from the Italian government, media and sponsors.

Castellani said Tuesday that 18,000 people had volunteered for the Turin Games.

"We still have 500 days, which are the most difficult but also the most exalting," Castellani said. "Everyone shares the same objective, to hold an extraordinary games."

The games, which begin Jan. 10, 2006, will have a budget of $1.38 billion and feature about 2,500 athletes from 85 countries.




Today's Top News
Top Sports News

Province fills leading positions via election




China to improve RMB exchange rate system




Death toll from boat accident rises to 28




Strong earthquake shakes central California




Birth anniversary of Confucius remembered




College graduates' job situation improving