Province fills leading positions via election
By Bao Xinyan (China Daily)
Updated: 2004-09-29 08:49
NANJING: In the context of rising demand for democracy and transparency, election speeches made by scores of candidates to compete for bureau-level positions were broadcast live on satellite television Tuesday in East China's Jiangsu Province.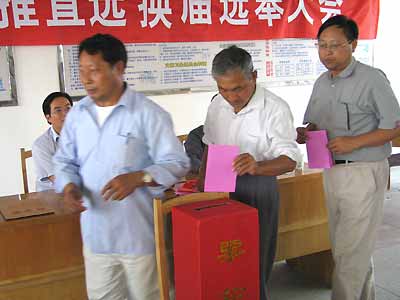 Villagers cast their votes at a county-level election in Zhenjiang, East China's Jiangsu Province, September 28, 2004. [newsphoto]
Altogether, 117 cadres were making public presentations and open replies on TV Tuesday and Monday, drawing attention nationwide.
They were competing for 22 posts for 14 provincial government departments as well as five colleges and universities in front of nine judges in Nanjing, the provincial capital.
At least 20,000 people witnessed on the spot presentations. Millions nationwide viewed the live television broadcast, the first of its kind in the country, where democratic elections are in a fledgling phase.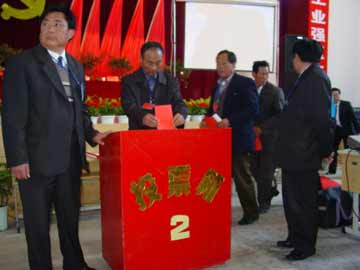 Party members line up on April 9 to cast their vote for secretary of the Caiji Township Party Committee of Jiangsu Province. [newsphoto/file]
The posts include directors of the Jiangsu Provincial Development and Reform Commission, the Provincial Foreign Trade and Economic Co-operation Bureau and the Provincial Cultural Bureau, and presidents of five colleges and universities and heads of three counties.
This is one of the most important steps for public recommendation and election of cadres carried out in the province.
More than 60 candidates were elected through their presentations and oral examinations. They will take part in further competitions and examinations.
"The process is in some way more important than the result," said Zhu Xiaoming, one of the candidates, "since this election is very fair. If I am not elected, I know that it is because there is still a big gap between me and other candidates."
"The election is an examination for us, through which we have learnt about our weak points," said Wei Ran, another candidate.
According to Hu Lingyun, secretary of the Party Committee of Southeast University, who took part in evaluating applicants, the candidates should present speeches and replies that illustrate their analytical abilities, understanding of policy and theories, and their aptness in handling emergencies.
"My feeling is there are so many talented people in the province. A good way of electing cadres will provide them with more opportunities," he said.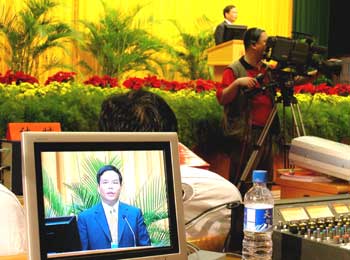 Jiangsu Satellite TV Station broadcast the debates and speeches live September 28, 2004. [newsphoto]

This public recommendation and election of cadres has been in preparations for a long time.

Through two rounds of public recommendation, there are 4,000 people recommended for the posts.

In September, 1,100 candidates passed the first examination. The 117 candidates were elected from them.

"We should do well in the public recommendation and election of cadres," emphasized Li Yuanchao, Party secretary of Jiangsu Province at a working conference earlier this year.

"It should be carried out on a regular base in a larger range," he said.

Public recommendation and election of cadres was experimented with last year in Yuxian, a county in the province, for the position of the Party committee and a town head.

After that, the public recommendation and election of cadres was spread to other cities, including Huai'an, Yancheng, Jintan and Nanjing.




Today's Top News
Top China News

Province fills leading positions via election




Circular economy enhances development




Death toll from boat accident rises to 28




Strong earthquake shakes central California




Birth anniversary of Confucius remembered




Graduates' job situation improving