Crude oil prices surpass $50 per barrel
(Agencies)
Updated: 2004-09-29 08:40
Crude oil surpassed $50 a barrel for the first time and analysts said Tuesday that prices could keep rising because of a sharp rise in global demand, tight supplies and threats to output in petroleum-producing nations such as Iraq and Nigeria.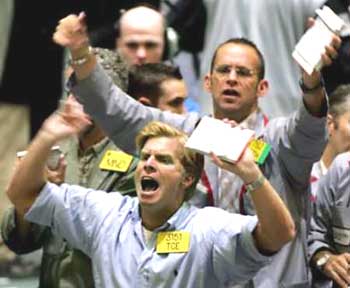 Traders bargain in the oil pit at the New York Mercantile Exchange on September 28, 2004. Oil prices raced to record highs above $50 as rebel threats against Nigerian oil facilities threatened to inflict further strain on global supplies. [Reuters]

Homeowners and energy-intensive industries could feel the sting from high oil prices worsen as seasonal demand picks up this winter, and there is already evidence that the supply disruptions caused by Hurricane Ivan are making it more costly to drive.

The 75 percent increase in the price of oil in the past year also promises to heat up as a political issue, with just over a month until the presidential election.

Crude futures first hit $50 a barrel in after-hours trading late Monday, spurred higher by reports that rebels in Nigeria continue to battle for control of the vast southern oil fields in the world's seventh-largest exporter.

A unit of Royal Dutch/Shell Group, which accounts for roughly half of Nigeria's daily production of 2.5 million barrels, said Tuesday that insecurity in the region forced it to shut an oil flow station in the Niger Delta that pumps 28,000 barrels a day. Also on Tuesday, Saudi Arabia pledged to boost the limits of its daily oil production by a half-million barrels, bringing its output capacity to 11 million barrels, but the move failed to calm markets since it does not mean actual supplies would be added anytime soon.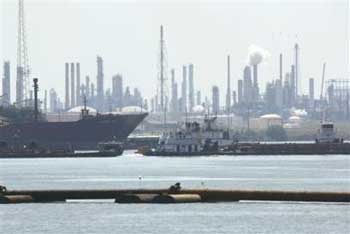 Ships and barges travel along the Houston Ship Channel near a refinery in La Porte, Texas, near Houston,Tuesday, Sept. 28, 2004 as oil prices moved above $50 per barrel for the first time. Analysts said instability in the Middle East, political unrest in Nigeria, Africa's top oil exporter, and damage to U.S. production from the Caribbean's hurricanes were keeping traders on edge about world supplies. [AP]

Light crude for November delivery rose 26 cents to $49.90 to a new settlement high on the New York Mercantile Exchange after trading as high as $50.20 earlier in the day.

Adjusting for inflation, today's prices are still about $30 a barrel below the level reached in 1981 after the Iranian revolution. Even so, the United States is on pace to spend an extra $68 billion on oil this year, or 30 percent more than was spent last year. That calculation is based on analysts estimates of an average oil price of $40-per-barrel in 2004, compared with $31 in 2003, as well as slightly higher demand of more than 20 million barrels per day.

This year's surge in prices has resulted in "a major redistribution of income from oil consumers to oil producers" and has been a drag on the economy, according to Nigel Gault, an economist at Global Insight.

Gault said every $10-per-barrel increase in the price of oil causes U.S. economic growth to slow by 0.3 percent per year. The financial blow is mitigated by the fact that the country is more energy efficient than it was during the oil crises of the 1970s due to conservation measures taken since then and because the industrial sector has shrunk dramatically.

But Global Insight forecasts that, by sapping some of the country's economic strength, high oil prices have made the presidential election a closer race.

Underpinning today's high oil prices is the fact that the world's supply buffer, or excess capacity, is just 1 percent of daily global demand of 82 million barrels. That leaves the industry little breathing room in the event of a prolonged supply interruption and it is why prices have climbed higher each time an Iraqi oil pipeline is attacked or Russian oil giant Yukos warns that its output might suffer due to a multibillion dollar back-tax bill.

"We have nothing, really, to fall back on," said Robert Ebel, director of the energy program at the Center for Strategic and International Studies in Washington, who believes oil will remain above $40 a barrel into 2005.

Some analysts insist, however, that oil prices are artificially high, with markets rallying on overblown fears, rather than supply-demand fundamentals. "We're getting close to the precipice" from where prices will fall, said Tom Kloza, director of Oil Price Information Service in Lakewood, N.J.

Whatever the cause, soaring oil prices are potentially bad news for those who heat their homes with fuel oil, which is derived from crude, and could translate into higher bills for homeowners using natural gas, whose price tends to move in sympathy with crude.

While weather is a major determinant of winter heating costs, analysts say homeowners using heating oil might spend anywhere from $200 to $500 more this winter, assuming they burn about 1,000 gallons during the season. The Natural Gas Supply Association, an industry group, is scheduled to give its winter heating-cost forecast Thursday.

Although the average cost of unleaded regular gasoline in the United States is down from its springtime high of $2.06 per gallon, pump prices have risen more than 7 cents a gallon over the past two weeks to $1.92. That's 33 cents above last year and analysts say motorists shouldn't expect much relief as long as oil prices remain high.

Surging prices for diesel and jet fuel, which are similar to heating oil in their chemical composition, are already squeezing the trucking and airline industries. The average retail price of diesel fuel has risen 41 percent in the last year to $2.01 a gallon, according to the Energy Department, while spot jet fuel costs are up nearly 100 percent at $1.42 per gallon.

The catalyst for the latest runup in oil and gasoline prices has been shrinking domestic inventories of fuel after Hurricane Ivan caused disruptions to production, shipping and refining in and around the Gulf of Mexico

The federal Minerals Management Service said Tuesday that daily oil production in the Gulf of Mexico is 29 percent below normal at about 1.2 million barrels per day. Nearly 12 million barrels of oil, or 1.9 percent of annual production in the Gulf of Mexico, have been lost since Sept. 13, when offshore producers began evacuating crews and shutting down platforms ahead of Ivan's arrival.

The Energy Department has agreed to loan at least 1.7 million barrels of oil to refiners whose operations were strained by Ivan, though the move has had virtually no impact on prices.

"The real problem is that we're entering the fourth quarter, when global demand can go up as much as 1.5-2 million barrels a day," said George Gaspar, an oil industry analyst at R.W. Baird & Co. "That's not going to allow much room for oil prices to fall very much."




Today's Top News
Top World News

Province fills leading positions via election




Immediate interest rate rise unlikely




Death toll from boat accident rises to 28




Strong earthquake shakes central California




Birth anniversary of Confucius remembered




Graduates' job situation improving