7 hostages freed in Iraq, including 2 women
(Agencies)
Updated: 2004-09-29 07:49
Kidnappers released two female Italian aid workers and five other hostages Tuesday, raising hopes for foreigners still in captivity. But insurgents showed no sign of easing their blood-soaked campaign against the U.S. presence in Iraq, staging a show of defiance in Samarra and striking twice with deadly force in Basra.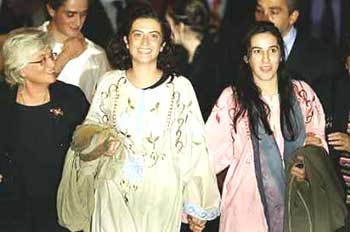 Released hostages Simona Torretta (R) and Simon Pari (C) celebrate as they arrive at Ciampino Airport in Rome, September 28, 2004. The two Italian hostages seized in Baghdad three weeks ago were freed along with kidnapped Iraqis and Egyptians in a flurry of releases, but an abducted Briton remained under threat of death. [Reuters]

Three Egyptian telecommunications workers abducted last week were among those freed Tuesday, their parent company, Orascom, announced in Cairo. A fourth Egyptian in the group was released Monday and two others remain hostage.

It was unclear what prompted the two separate groups of kidnappers to release their captives, including two Iraqis who had been seized with the Italian women, and whether any ransom was paid.

The Italians were wearing full black veils that revealed only their eyes as they were received by the Italian Red Cross in a Baghdad neighborhood, according to video broadcast by the Arab news station Al-Jazeera.

Looking dazed but smiling, Simona Torretta lifted her veil and repeated, "Thank you," in Arabic. Simona Pari hesitated before also lifting her veil.

Later Tuesday, the two women were flown to a military airport in Rome, where they were greeted by Prime Minister Silvio Berlusconi. The two aid workers, now in long, white dresses, emerged smiling and held hands as they walked on the tarmac, their relatives by their side.

Asked by reporters how she felt, Pari said only, "Good."

Pari and Torretta were abducted Sept. 7 in a bold raid on the Baghdad office of their aid agency "Un Ponte Per ..." ("A Bridge To ...").

News of the release came after a Muslim leader from Italy met with an influential Muslim association in Baghdad on Tuesday to press for their freedom, though it was not immediately known if there was a connection. The two women, both 29, had been working on school and water projects in Iraq.

The Kuwaiti newspaper Al-Rai al-Aam had reported a $1 million payment was involved, but Al-Arabiya TV, citing unidentified sources involved in the negotiations, said no ransom was paid.

The Egyptian charge d'affaires in Baghdad, Farouq Mabrouk, said the kidnappings of the Egyptians were "motivated by financial reasons." But an Orascom spokesman declined to comment on whether a ransom had been paid.

More than 140 foreigners have been kidnapped in Iraq — some by anti-U.S. insurgents and others by criminals seeking ransom. At least 26 have been killed, including two Americans whose beheadings were recorded on grisly video footage and posted on the Internet last week.

A Western official, speaking on condition of anonymity, said this week's releases raised hopes for the at least 18 other foreigners still in captivity, including British hostage Kenneth Bigley, who was captured with the Americans from their Baghdad house on Sept. 16. But with so many different groups involved in the kidnappings, the diplomat cautioned against drawing any conclusion.

On Tuesday, kidnappers of two French journalists who have been held more than a month in Iraq praised France's "positive steps toward the Iraqi people," a sign that they may be preparing to release their hostages.

In a statement e-mailed to The Associated Press in Cairo and also posted on a discussion board of the Iraq Islamic Army, the group said it hopes "this is a beginning for a new era of understanding our issues and respect of our constants."

However, the statement did not refer to the French captives, journalists Christian Chesnot and Georges Malbrunot.

The group, which claimed the kidnapping of the Frenchmen in previous statements, did not elaborate on the "positive steps" it said France has taken.

On Monday, French Foreign Minister Michel Barnier said that an international conference on Iraq proposed by the United States should consider the question of a U.S. troop withdrawal from that country.

Meanwhile, dozens of masked gunmen carrying flags of Iraq's most feared terror group drove down the main street of the central city of Samarra in a show of strength Tuesday for the first time since U.S. troops briefly entered the central city this month under a deal brokered with tribal leaders.

The militants, loyal to terror mastermind Abu Musab al-Zarqawi, stopped some cars, asking the occupants to hand over music tapes in exchange for ones with recitations from the Muslim holy book, the Quran.

The city north of Baghdad has been under insurgent control and a virtual "no-go" area for U.S. troops since May 30.

Al-Zarqawi's Tawhid and Jihad group has claimed responsibility for a series of bombings and kidnappings, including those of Bigley and the two slain Americans, Eugene Armstrong and Jack Hensley. Intelligence reports indicate the al-Qaida-linked group has been forced to reorganize its leadership, the military said in a statement.

On a day that saw attacks scattered across the country, insurgents ambushed a British military convoy near the comparatively peaceful southern city of Basra, killing two soldiers, the Ministry of Defense in London said.

The soldiers' names were withheld pending family notification.

Also in Basra on Tuesday, gunmen killed five members of Iraq's intelligence agency as they were returning a civilian rescued from kidnappers to his family, said Maj. Jasim al-Darraji, an intelligence officer.

In Baghdad, American troops and insurgents clashed Tuesday along central Haifa Street, an Iraqi Interior Ministry spokesman said, and heavy explosions rocked the city. There was no immediate word on casualties.

Haifa Street, an insurgent stronghold, has been the scene of bloody car bomb attacks, raids and fierce firefights. Dozens of suspected insurgents have been arrested there, including Syrian, Sudanese and Egyptian nationals.

The fighting came after a roadside bomb exploded on another main Baghdad roadway early Tuesday, wounding three civilians. The attack on Karrada Street also damaged several vehicles and shattered windows, witnesses said.

Despite the persistent violence, the U.S. military claimed to be making progress in its attempts to wrest control from insurgents in key parts of the country ahead of elections slated for January,

Weeks of airstrikes targeting followers of al-Zarqawi have exacted a heavy toll on fighters in the rebel-held city of Fallujah, the military said in a statement Tuesday.

American forces struck a suspected hide-out used by "rising" associated of al-Zarqawi in Fallujah early Tuesday, the military said.

Another site believed to be used by the network in central Baghdad was raided Tuesday, it said in a separate statement. A search uncovered enough weapons to stage multiple attacks, it said.




Today's Top News
Top World News

Circular economy enhances development




China supports rational reforms of UN




Birth anniversary of Confucius remembered




Death toll from boat accident rises to 28




Graduates' job situation improving




Patent on Viagra faces challenge