Abducted CNN producer released in Gaza
(Agencies)
Updated: 2004-09-29 01:04
An Israeli Arab who works as a producer for the TV network CNN was released Tuesday, a day after he was kidnapped at gunpoint, relatives and Palestinian police said.
Riad Ali was removed from a CNN van on a busy Gaza street Monday, when Palestinians stopped the broadcast vehicle and asked for him by name. They removed him from the van and took him away to an undisclosed location.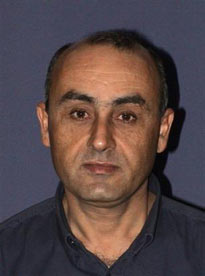 CNN producer Riyad Ali is seen in this undated picture released by CNN Monday Sept. 27, 2004. [AP]

It was not clear whether the kidnapping signaled a new practice by Palestinian militants — perhaps an attempt to copy Iraqi insurgents who have snatched dozens of foreigners — or whether Ali was taken for personal reasons.

Talking to reporters after emerging from a Gaza police station, Ali said his kidnappers identified themselves as members of the Al Aqsa Martyrs' Brigades, linked to Yasser Arafat's Fatah movement.

Ali refused to discuss what demands his abductors made. He thanked Arafat, Israeli Arab leaders and CNN for helping to win his release. "What I am waiting for now is to go back to my family, children and wife, who are waiting for me."

Ali's father, Said, told a group of reporters outside his home that Arafat won his son's release.

"Yasser Arafat made every effort, he promised, the word of a man, he told me 'I will not rest and not sleep until Riad Ali is freed and back home with his family,' and when I spoke to him now he told me 'I promised, I freed," the father said.

CNN confirmed the release, saying Ali had been turned over to Palestinian police. A police official also said Ali was free.

Earlier, a senior Palestinian security official, speaking on condition of anonymity, said officials had reached an agreement with the kidnappers and the journalist. He did not elaborate.

In four years of fighting with Israel, militant groups have carried out scores of suicide bombings and shooting attacks, but have refrained from kidnapping non-Palestinians as a way of extracting concessions from Israel.

Ali was singled out by the kidnappers, and there was speculation someone had a personal grudge against him.

Militants might also have opened a new front by targeting an Israeli journalist following the assassination of a Hamas leader in Syria on Sunday. Israeli security sources have acknowledged involvement in the killing, and Hamas, weakened after a string of killings of its leaders, has vowed revenge.

Palestinian Prime Minister Ahmed Qureia on Tuesday said authorities were working hard for Ali's release and urged the kidnappers to free him. "It is wrong and criminal. It must be ended," Qureia said. "What will be achieved?"

During four years of Israeli-Palestinian fighting, foreign and Israeli Arab journalists have felt relatively safe in Gaza. In one of the few incidents of violence against foreign journalists, Palestinians attempted to kidnap a New York Times correspondent last May, but the reporter escaped.

However, Gaza has grown increasingly chaotic in recent months amid growing discontent with the weakened Palestinian Authority and ahead of a planned Israeli withdrawal from the area next year.

Palestinian gunmen in Gaza have seized several foreign aid workers and local officials in recent months, but released them after a few hours, often under pressure from their leaders. Tensions have escalated since Sunday's car bombing in Damascus that killed a Hamas leader.

The Israeli military closed the main crossing from Israel into Gaza, used by Palestinians, diplomats and reporters, "following security assessments and security alerts." The military would not say if the decision was tied to the kidnapping.

In the West Bank violence, meanwhile, troops killed two people in the Jenin refugee camp, Palestinians said. One was a 46-year-old man with a history of mental illness, shot while wandering in a dark section of the camp in violation of an Israeli curfew'

Later Tuesday, Palestinians said soldiers on patrol shot and killed an 18-year-old as he was sitting in front of his house. The military had no comment.




Today's Top News
Top World News

Circular economy enhances development




China supports rational reforms of UN




Birth anniversary of Confucius remembered




Death toll from boat accident rises to 28




Graduates' job situation improving




Patent on Viagra faces challenge