Two Italian hostages freed in Iraq
(Agencies)
Updated: 2004-09-29 01:03
Two Italian and two Iraqi aid workers kidnapped this month in Iraq were freed Tuesday after three weeks in captivity, Italy's prime minister said.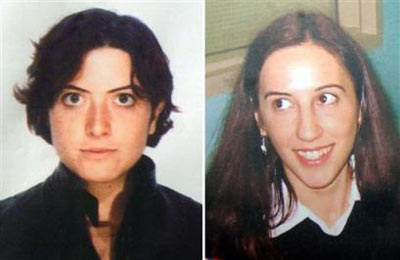 Italian aid organization 'Un Ponte Per Baghdad' (A Bridge for Baghdad) volunteers Simona Pari, left, and Simona Torretta, are seen in this reproduction of a handout photos made available in Rome, Tuesday Sept. 7, 2004. Al-Jazeera announced Tuesday, Sept. 28, 2004 that the two Italian hostages and their Iraqi colleagues were released Tuesday in Iraq. [AP]


Prime Minister Silvio Berlusconi told Parliament that the four were handed over to the Red Cross in Iraq. He said the Italians were expected to return in Italy soon, possibly Tuesday evening.

"Finally a moment of joy," Berlusconi said. "The two girls are well and will be able to return to their loved ones tonight."

Berlusconi went before Parliament to give details of the release, thanking the intelligence agencies of neighboring countries, including Jordan, whose king was in Rome Tuesday.

Berlusconi's comments were reported just after the Arab television network Al-Jazeera announced that the Italians, Simona Pari and Simona Torretta, had been freed. A Muslim leader from Italy met with a local Muslim association earlier Tuesday in Baghdad to press for their release, though it was not immediately known if there was a connection.

The two women — both 29-year-olds working on school and water projects for the aid agency "Un Ponte Per ..." ("A Bridge To...") — were kidnapped in Baghdad on Sept. 7. Two different groups claimed responsibilty for the abductions, demanding the withdrawal of Italian troops from the country or the release of Iraqi female prisoners.

The same two groups later put out Web statements saying the two Italians had been killed, but the Italian government cast doubt on the claims' authenticity.




Today's Top News
Top World News

Circular economy enhances development




China supports rational reforms of UN




Birth anniversary of Confucius remembered




Death toll from boat accident rises to 28




Graduates' job situation improving




Patent on Viagra faces challenge