Japan's new FM defends shrine visits
(Agencies)
Updated: 2004-09-29 00:57
Japan's newly appointed foreign minister defended Prime Minister Junichiro Koizumi's visits to a controversial war shrine which have enraged neighbouring countries.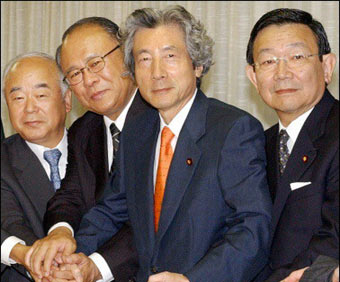 Japanese Prime Minister Junichiro Koizumi (2nd R) with newly-appointed LDP executive members in Tokyo. Koizumi reshuffled his cabinet, tasking a key reformer with privatising the mammoth postal system and replacing his foreign minister amid a diplomatic standoff with North Korea. [AFP]


Nobutaka Machimura, in his first public comments since being appointed in a cabinet reshuffle on Monday, said it was "natural" for Koizumi to pay homage at the Yasukuni shrine.

"I think it is natural for a Japanese prime minister to vow to the spirits (of fallen soldiers) that he is making wholehearted efforts for lasting peace," said Machimura.

"Various nations have various ways to honour" their war dead, he added.

However, Machimura said he might reconsider his own routine visits to Yasukuni now that he has replaced Yoriko Kawaguchi as foreign minister.

Koizumi pays annual visits to the shrine which honours 2.5 million Japanese fallen in modern wars including wartime leader general Hideki Tojo and other convicted war criminals.

Millions of Asians died under Japanese occupation during the war, many of them as slave labourers.

Machimura said Japan's unique view of the deceased makes it difficult for some Japanese nationals to understand criticism from China, the strongest opponent of the Yasukuni visits.

"The Japanese hold the view that all the dead people will become gods but people in China hold the view that bad people remain evil even after their deaths," he said.

"The argument that visits to the Yasukuni, which honours Class-A war criminals, would offend the Chinese is something that the Japanese cannot easily grasp."




Today's Top News
Top World News

Circular economy enhances development




Death toll from boat accident rises to 28




7 hostages freed in Iraq, including 2 women




Strong earthquake shakes central California




Birth anniversary of Confucius remembered




Graduates' job situation improving