Birth anniversary of Confucius remembered
(Xinhua)
Updated: 2004-09-29 00:57
China held a public memorial service to mark the 2555th birth anniversary of Confucius, a brilliant "sacred man" in ancient China, on Tuesday.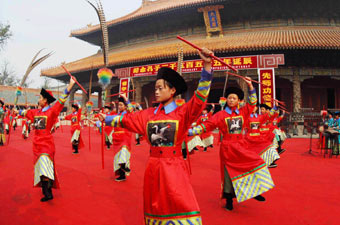 A dance performance is held yesterday during a ceremony to mark the 2255th anniversary of the birth of Confucius at the Temple of Confucius in the city of Qufu, East China's Shandong Province. The ceremony to pay tribute to the great sage used to be organized by local non-governmental organizations. The activity was organized by the local government Tuesday. [newsphoto]

More than 3,000 people from home and abroad attended the public memorial service in his hometown, Qufu city in east China's Shandong province, the first official public memorial service for the world-renowned scholar and ethicist since the foundation of the People's Republic of China in 1949.

Confucius's descendants, government officials and representatives from all walks of life saluted the altar in turn and offered flowers to statue of the "sacred man."

People dressed in traditional ancient costumes represented the same activities held in the early Qing Dynasty (1644-1911). Tourists attended from the Republic of Korea (ROK), Malaysia and the United States.

Confucius (551 BC-479 BC), or Kong Fuzi in Chinese, was a great ancient Chinese educator and philosopher. Among his three thousand disciples, seventy-two were versed in Six Arts, ceremonies, music, archery, charioteering, writing and mathematics. His profound thinking and the centuries of commentary it spawned are central to China's culture system.




Today's Top News
Top China News

Province fills leading positions via election




China to improve RMB exchange rate system




Death toll from boat accident rises to 28




Strong earthquake shakes central California




Birth anniversary of Confucius remembered




College graduates' job situation improving