Death toll from boat accident rises to 28
By Guan Xiaofeng (China Daily)
Updated: 2004-09-29 00:57
Dozens of passengers not listed in the log book of a boat that capsized on Monday in Sichuan Province were still missing Tuesday.
Eight more bodies were recovered and forty passengers were unaccounted for after a boat capsized in the Southwest China province's Peng'an County, said the Sichuan Administration of Work Safety.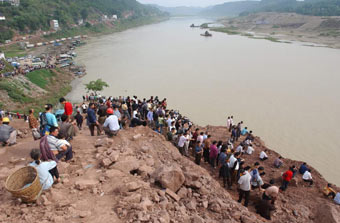 Local residents gather along the river where the "Chuanpengke 29" capsized Monday in Sichuan Province. [newsphoto]

Twenty-eight bodies have been recovered so far and 67 passengers survived.

The number of missing people rose sharply Tuesday from six to forty.

The ship log showed that only 83 people (80 passengers and three crew members) were on board, but after a village-to-village count by the local government, the actual number of passengers on board was pegged at 135 (132 passengers and three crew members), which means that the boat with a capacity of 80 passengers was heavily overloaded.

An investigation into the cause of the incident is ongoing, but it is widely believed that overloading and the poor condition of the navigation route are behind the tragedy.

Many local people seem to ignore the issue of security when they take a boat.

The sinking boat was packed with passengers and many could not find seats but they still remained on the boat.

A local villager said the navigation route may have been blocked earlier by a large number of stones thrown into the river to construct a hydropower station downstream, making the torrents extremely rapid and the navigation route unsafe.

"The sinking of a boat was just a matter of time," he said.

The 132 passengers are all local villagers who took the boat to a big fair held in the Jinxi Town to buy goods for the coming Mid-Autumn Festival, an important traditional Chinese festival.

Many witnesses said they saw the boat hit a huge stone under the water. The collision broke a hole on the hull. The boat quickly overturned.

The wreckage has been pulled out of the water and was under examination, said Wang Mingzhang, Director of the Nanchong Work Safety Administration.

Rescue efforts are ongoing but are difficult as the Jialin River is now at its high water level and the death toll might rise in the coming days.

The State Council warned local governments last week to guard against work accidents.

In the first eight months of this year, water traffic incidents left 309 people dead or missing, said Wang .




Today's Top News
Top China News

Minister: North Korea has nuclear deterrent




Beijing mulls setting up anti-terror bureau




Bumper wheat crop boosts confidence




FM: China supports UNSC reform




ED patients get easier access to Viagra




Cakes take the bite of packaging