Shaolin monks in hand-to-hand copyright battle

(Agencies)
Updated: 2004-09-28 09:53
The monks of China's Shaolin temple are not just good at kung fu but also increasingly agile at using copyright rules to protect their name from rip-offs, state media reported.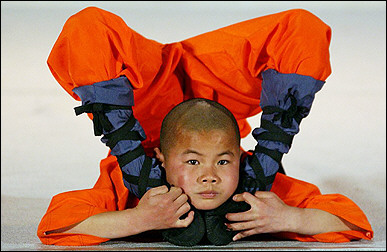 A young monk of China's Shaolin temple demonstrating his skills. The monks have increasingly been using copyright rules to protect their name from rip-offs. [AFP]

The 1,500 year-old temple, known as the cradle of China's martial arts, recently set up the Henan Shaolin Temple Industrial Development Co., whose main purpose is to protect the temple's intellectual property rights, Xinhua news agency said.

"Everyone just wants to make some profits from the name, totally regardless of the integral image of Shaolin Temple," Shaolin abbot Shi Yongxin told the agency.

More than 1,000 brands containing "Shaolin" have been registered without the approval of the temple in the United States, Japan and Europe, Shi said.

Since its start, the new company has been engaged in feverish activity, registering nearly 100 Shaolin-related brands in China and has applied to register "Shaolin" brands in over 100 countries, Xinhua said.

A survey by the China Trademark and Patent Law Office found that many countries were competing to register their own trademarks of Shaolin or Shaolin temple, state media reported previously.

On the west coast of the United States alone, there are three Shaolin temples. In Europe, Shaolin temples can be found in Vienna and Budapest.




| | |
| --- | --- |
| | |
| Milan women's collection show | |

| | |
| --- | --- |
| | |
| An Australian Tawny Frogmouth during feeding time | |

| | |
| --- | --- |
| | |
| Pink dolphins in the sea off HK | |
Today's Top News
Top Life News

Beijing mulls setting up anti-terror bureau




Bumper wheat crop boosts confidence




FM: China supports UNSC reform




ED patients get easier access to Viagra




Cakes take the bite of packaging




Boat accident in Sichuan kills 20