Owen struggles to settle in Madrid
(Agencies)
Updated: 2004-09-28 09:29
A few days after signing for Real Madrid, England striker Michael Owen justified his decision to leave Liverpool by saying that he was making the move in order to step out of the Anfield "comfort zone".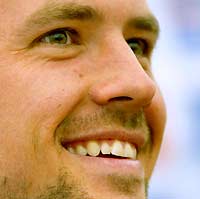 A month on, after spending most of the time warming the Real bench watching his Galactico team mates struggle on the pitch and witnessing the premature departure of team coach Jose Antonio Camacho just three games into the season, he must be wondering what he has let himself in for.
The 24-year-old striker joined what he thought was the most talented, attack-minded team in Europe but so far they have found it almost impossible to find the opposition net in open play.
Real have scored just four goals in their last six competitive games and two of those have come from David Beckham free kicks.
Despite the fact that both first-choice strikers Ronaldo and Raul have been in poor form, Owen and fellow substitute Fernando Morientes have been given few chances to shine.
The England international has started just one competitive match this season and in the few minutes he has got on the pitch, he has failed to grasp his opportunity.
"Sometimes I try too hard because I'm desperate to impress," Owen admitted after playing the final 10 minutes of Real's 1-0 victory over Osasuna last Tuesday.
"It's hardly been the ideal start to the season for the team nor for me trying to break into the side. It's a Catch-22 situation for me. I need more time to make my mark but in order to get more time I need to do something impressive."
SURPRISE MOVE
From the very start Owen's surprise appearance at the Bernabeu was greeted with a heavy degree of scepticism from both fans and local media who had been gearing themselves up for the arrival of a much-needed midfield enforcer in the shape of Patrick Vieira.
It was not the fact that they questioned Owen's talent as a player, but that it was apparent to everyone except club president Florentino Perez that he was not the sort of player the team needed.
Camacho was clearly put out by Owen's arrival and there have been constant reports that some of the dressing room heavyweights such as Raul and Morientes felt their position threatened by the arrival of a young striker.
It was hardly the ideal environment for a new player to arrive at the club.
To compound his difficulties Owen had to pull out of the squad for the weekend's league match against Athletic Bilbao, a move that raised the spectre of the injury problems that have slowed his progression as a player.
With Raul filling in on the left of midfield to cover for the injured Zinedine Zidane, new coach Mariano Garcia Remon resorted to using Guti as a partner for Ronaldo up front, an indication that Owen will face yet more competition as he attempts to win a place in the starting line-up.
Add to that the traditional problems that accompany a move to a foreign club such as learning a new language, adapting to new customs and coping the more intense pressure from the local press and Owen must be thinking that the Anfield comfort zone might not have been such a bad thing.
Today's Top News
Top Sports News

Beijing mulls setting up anti-terror bureau




Bumper wheat crop boosts confidence




FM: China supports UNSC reform




ED patients get easier access to Viagra




Cakes take the bite of packaging




Boat accident in Sichuan kills 20