The National Ballet of China has presented new productions of varying styles, and all have received excellent reviews, from "The Red Detachment of Women" to "Yellow River," from the "Fountain of Tears" to "Coppelia," from "Raise the Red Lanterns" to the "Rite of Spring."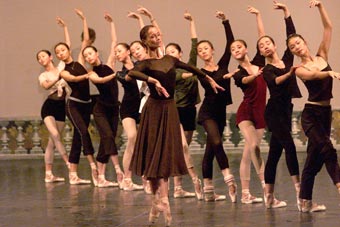 Chinese dancers at the National Ballet of China demonstrate their own interpretations of "Sylvia" under the guidance of Delphine Moussin from the Opera de Paris.
The 2004/05 season will see "Sylvia," a co-operation with the Opera de Paris.
It will be staged five times at the Centennial Memorial Hall of Peking University from September 30 to October 4, before it goes to Shanghai for the 2004 Shanghai International Arts Festival in November.
Long development
The Greco-Roman labyrinthine tale "Sylvia" was made into a play by Renaissance playwright Torquato Tasso (1544-95), and Leo Delibes (1836-91) embraced it as an opportunity to exercise his talent for writing scores.
The French composer's first major triumph came with the ballet "Coppelia," based on a story by E. T. A. Hoffmann and staged at the Opera de Paris in 1870.
He followed this in 1876 with "Sylvia," which is considered to be Delibes' best ballet - and in fact, the best ballet music before Tchaikovsky, who judged it to be better than his own "Swan Lake."
The score shows a Wagner influence and, even though it does not shrink from the worst cliches of 19th-century ballet, it is still full of poetry and sensuality.
More rarely performed than "Coppelia," "Sylvia" has nevertheless played an important role in the history of dance.
When Louis Merante originally choreographed the Romantic era ballet "Sylvia" for Opera de Paris in 1876, it broke with Romantic ballet tradition, portraying women as maiden warriors rather than as the ethereal image of dainty fairies.
A quarter of a century later, Serge Diaghilev's failed production for the Maryinsky Theatre in St Petersburg hastened his departure to the Ballets Russes.
Since then, the most famous staging of "Sylvia" has been Frederick Ashton's 1952 effort for the Royal Ballet.
In 1979, Lycette Darsonval choreographed a version for Opera de Paris and one year later, the version was staged by the Central Ballet of China (now the National Ballet of China) in collaboration between the two companies.
About 24 years later, the two companies joined hands again to re-stage the show as a major programme of Sino-French Culture Year in China.
Ballet masters Lionel Delanoe, Laurent Novis and Claude de Vulpian helped to rehearse the show based on the 1979 version of Darsonval.
According to Delanoe, because of the copyright problem, this version has never been re-staged at Opera de Paris. In 1997, Milwaukee-born choreographer John Neumeier created a strike-struck modern version of the ballet.
The National Ballet of China's "Sylvia" will be very true to the 1979 version and even the costumes and setting designed by Philippe Biont are mainly according to those designed by Bernard Dayde in 1979.
Re-creating a classic with profound respect for the original concept and material is by no means easy work. But Delanoe does bring some things up to date.
"I got the tape of the 1979 version of Darsonval a year and a half ago and I have tried to stick to the choreography as much as I can. But it is ridiculous to perform in the way people danced some 30 years ago," said Delanoe during a break in rehearsals on Thursday afternoon.
"Ballet has developed greatly in terms of techniques as well as staging effect. So the hardest thing is to keep the meaning, the core of the original version but display something fresh and something meeting today's tastes," he said.
Story line and cast
The version starts on a beautifully constructed set of lush green forest, blooming flowers and greenery and a prominent statue of Eros, the god of love.
Setting the tone for dusk, dryads (wood nymphs) leap about, satyrs (male spirits of the woodlands) jump with eagerness, and naiads (water nymphs) in dreamy pastel dresses with reflective head pieces flutter about the stage in an amusingly flirtatious and overly drawn-out romp.
When Sylvia discovers shepherd Aminta spying on her, she shoots him with her little bow and arrow. In return, Eros, the god of love, shoots her back and she is smitten with love for the slain mortal.
In her grief, she is kidnapped by the rude Orion and dragged off to his lair. Meanwhile a sorcerer, disguised by Eros, brings Aminta back to life.
In Orion's den, instead of submitting, she gets them all drunk and escapes with the aid of the ever-ready Eros, who disguises himself as a pirate.
Sylvia returns to Aminta, but Orion appears again and wants to get Sylvia back. Aminta fights with Orion and Sylvia asks help from the chaste Diana, who does not allow the lovers to be together.
Eros presents a vision of Diana with a shepherd. It turns out Diana has not always been such a paragon of virtue herself. She can have no word to say but wishes the lovers a happy life.
The title role's character is part muse, precocious, coquette, wood nymph and quarry. Even in the most complex ballet story, it is rare to find a role containing as multi-faceted a personality as Sylvia.
Torn between strength and vulnerability, she has difficulty in finding a balance between aggressiveness and tenderness, between denial and self abandon, and only succeeds in discovering true love with the awakening of her own sensuality.
The four cast for the title role, Delphine Moussin, prima ballerina from Paris de Paris and the three Chinese ballerinas Zhu Yan, Zhang Jian and Wang Qimin, all interpret the charming Sylvia in slightly different ways.
"I told them the same story in the same way but do not want to hear them give me the same answer. They do not. They are physically different, interpret the story in their own way and portray the character according to their own understanding, but all right," said Delanoe.
With its convoluted plot of abducted maidens, endangered chastity, vengeful deities and faithfulness rewarded, it may have been at once too complicated and too hard for Chinese dancers from a different culture.
But the French ballet masters have been satisfied with the Chinese dancers' performance in the months they have rehearsed together.
"I teach them the same way as I teach in New York, in Paris or in London. I jut share my experiences with them and tell them some details to pay attention. They have all received it very well," he said.
"It is not perfect so far, there is never perfection, but it is good."
The first day cast will feature the delectable Opera de Paris prima ballerina Delphine Moussin in the title role. Zhu, Zhang and Wang, who are all gold-medal winners in world ballet competitions, will alternate in the title role in the following shows.
No better words to hail Moussin's techniques and performance. Karl Paquette's Aminta also shows incredible control and ability. Opera de Paris' dancer Paquette uses his easy pliability, effortless jumps and mature quality to display purity and elegance throughout his portrayal.
Chinese Li Jun, Han Po and Yu Bo will alternate as shepherd in the following shows.
As the sinister Orion, Sun Jie of the National Ballet of China presents a dark contrast to Paquette's Aminta.
Hao Bin is the omnipresent Eros. The young tall dancer will show off some fancy footwork in his pirate and sorcerer guises, with Lu Na at her regal best as Diana.
The Chinese corps cavort merrily, whether as peasants, demigods or undulating slave girls.
In general, the production proves that their style, spirit, and sheer technique have made today's National Ballet of China one of the wonders of the dance world.