Chocs downsized in obesity battle
(Agencies)
Updated: 2004-09-28 09:06
Some king-sized chocolate bars will be cut down to size in Britain next year as leading food manufacturers respond to growing pressure about portion distortion and rising levels of obesity.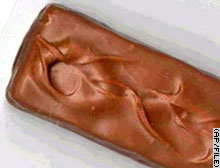 King-sized Snickers bars will be split into "two shareable portions."

The over-sized snacks, some weighing as much as 100 grams (3.5 ounces) and containing 387 calories, will be cut into "two shareable portions."

The move follows fast-food giant McDonald's decision to add salads to its traditional hamburger and fries menu and to provide pedometers in adult "happy meals."

"We're changing the format. It will become shareable and delivered in two pieces," said Mark Reid, of Masterfoods, which on Monday announced it would cut the size of Mars and Snickers.

He told Reuters the decision was the company's contribution to Britain's Food and Drink Federation's manifesto to address portion size. The federation published the industry's response to the obesity epidemic on Monday.

The plan addresses several issues including a new approach to portion size to reduce over-consumption, labeling, advertising to children, vending and public education.

Heart fears

Health experts have blamed portion distortion for contributing to the increasing waistlines of adults and children in Britain, which has one of the fastest growing rates of obesity.

Twenty-two percent of adults and nearly 16 percent of children between the ages of six and 16 in Britain are obese.

"It's encouraging that at last the food industry, after objecting to and opposing this kind of health move for so long is beginning to see the light," said Neville Rigby of the International Obesity Task Force (IOTF), which has been pushing for the action.

"But we need to go a lot further down the road before we can see any real changes."

The size of food servings, chocolate bars and drinks has expanded in recent decades, along with the girth of the people who consume them.

Although people may think they are getting a bargain with super-sized meals, health experts say they are piling on weight and increasing their risk of heart disease, diabetes and certain types of cancer.

Since 1982, the standard size of a hamburger has increased 112 percent. Bagels are 95 percent bigger than they were two decades ago and servings of pasta have gone up 480 percent, according to the World Cancer Research Fund International.

Cookies, once bite-sized, now resemble a discus or Frisbee.

Rigby added that more needs to be done to cut the proportion of fats and sugars in foods and to reduce the intensity of marketing which encourages over-consumption.

"We want to see more healthy choices available -- so people are not just presented with mountains of confectionery everywhere they go but have the chance to pick up an apple or some fruit," he said.




| | |
| --- | --- |
| | |
| Milan women's collection show | |

| | |
| --- | --- |
| | |
| An Australian Tawny Frogmouth during feeding time | |

| | |
| --- | --- |
| | |
| Pink dolphins in the sea off HK | |
Today's Top News
Top Life News

Beijing mulls setting up anti-terror bureau




Bumper wheat crop boosts confidence




FM: China supports UNSC reform




ED patients get easier access to Viagra




Cakes take the bite of packaging




Boat accident in Sichuan kills 20