US oil hits $50 on Nigeria supply fears
(Agencies)
Updated: 2004-09-28 08:34
U.S. oil prices reached a record $50 a barrel on Monday as Nigeria emerged as the latest focus for worries about supply in an already tight worldwide energy market.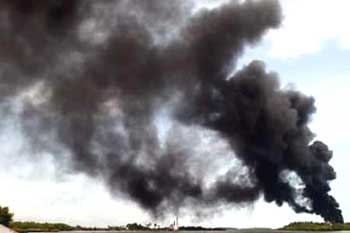 Oil prices surged to record highs on September 27, 2004 near $50 for U.S. crude as Nigeria emerged as the latest focus for worries about supply security on world energy markets. Growing concerns over militancy in Nigeria, OPEC's number five producer, are compounding worries about supply security in Russia, Saudi Arabia and Iraq. Smoke rises after a petroleum pipeline explosion in Lagos, Nigeria Sept. 18. [Reuters]

The U.S. light crude front month contract rose a further 36 cents a barrel in after-hours electronic trading to hit $50, its loftiest level in the 21 years of trade on the New York Mercantile Exchange. It later retreated to trade at $49.80.

In real terms, stripping out the impact of inflation, oil prices are now near levels hit during the Arab oil embargo of 1973-4, though much lower than the record highs following the 1979 Iranian revolution.

"This does not mean that oil prices will automatically go to $60...we can extend the gains further or prices can drop like a stone," said Tim Evans, senior energy market analyst at IFR Pegasus.

He added that worries over the recessionary impact to the global economy from record high oil prices could overtake the market as factor, stalling any further climb.

The jump to the psychologically important $50 level came after news that a rebel group in the oil-rich Nigeria delta has launched an "all-out war on the Nigerian state" from October 1 and advised all oil companies to shut production by then.

The Niger Delta People's Volunteer Force, which is demanding that the government negotiate self-determination by the Ijaw people who form a majority in the delta, also advised all foreigners to leave the area, which pumps all of Nigeria's 2.3 million barrels per day production.

Growing concerns over militancy in Nigeria, OPEC's fifth-largest producer, are compounding worries about supply security in Russia, Saudi Arabia and Iraq.

"All these factors create apprehension in the market and reinforce the view that we're on a knife's edge in terms of supply and demand," said Daniel Hynes, industry analyst at ANZ Bank in Melbourne. "The uncertainties heighten the risk premium applied to this market."

London Brent, the benchmark for European crude imports, earlier settled 60 cents higher at $45.13, after hitting a new record of $46.28 a barrel.

Global supplies have risen strongly this year but are still straining to meet the fastest demand growth in 24 years. World crude output is close to its limit after many years when OPEC producers kept large volumes untapped.

The lack of a supply cushion has reinforced the view among some investors that oil at $50 is not overpriced, despite a 50 percent jump in crude prices since the start of the year.

"The market faces the prospect of years without sufficient flexibility or insulation from shocks during a period of extreme geopolitical stress," said analyst Paul Horsnell of Barclays Capital.

Nigeria already has been forced to cut back output from surge capacity to prevent long-term damage to its aging facilities -- the first sign that efforts by OPEC countries to quell prices by squeezing out extra output may not be sustainable.

Presidential Adviser on Petroleum Edmund Daukoru told Reuters that production was reduced 10 percent to base capacity of 2.25 million bpd in August. Nigeria had been pumping at surge capacity of up to 2.55 million bpd.

Uncertainty over supplies from YUKOS, Russia's top exporter, also is supporting prices. YUKOS last week trimmed deliveries to China.

In Saudi Arabia, clashes between security forces and suspected al Qaeda followers served as a reminder of the threat to stability in the world's biggest producer.

In Iraq, insurgents fired mortar bombs at the oil ministry building Saturday, causing minor damage but no injuries.

But Iraqi oil exports, temporarily at least, are as high as they have been since last year's U.S.-led invasion.

Iraqi pipelines have been the target of frequent sabotage attacks. But Monday deliveries resumed through the main northern line to Turkey after repairs from a bomb attack Sept 2. Southern exports were near full capacity.

Extra crude from OPEC, now pumping at a 25-year high, has failed to make any impact. The group produced 30.5 million bpd in September, the highest since 1979, tanker-tracking consultancy Petrologistics said Monday.




Today's Top News
Top World News

Beijing mulls setting up anti-terror bureau




Bumper wheat crop boosts confidence




FM: China supports UNSC reform




ED patients get easier access to Viagra




Cakes take the bite of packaging




Boat accident in Sichuan kills 20