Beijing mulls setting up anti-terror bureau
By Li Fangchao (China Daily)
Updated: 2004-09-28 02:20
An anti-terrorism bureau is likely to be established in the capital city soon, according to a report in the Beijing News.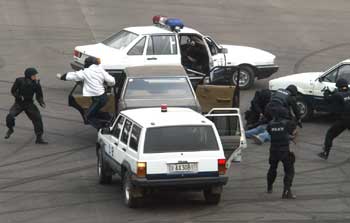 Beijing police practice in this March 16, 2004 file photo. [newsphoto]

A study regarding such a bureau is already under way and if the Ministry of Public Security approves it, it would be the first provincial-level anti-terrorism bureau in China, the report revealed.

Officials from the Beijing Municipal Public Security Bureau neither confirmed or denied the report.

With the Chinese traditional Mid-autumn Festival falling today and the approaching of the seven-day holiday starting from National Day on October 1, Beijing is expected to see a surging tourist flow.

This will put a lot of pressure on city transportation resources as well as public security officials.

The Municipal Public Security Bureau carried out a series of anti-terrorism exercises in two big stores in the centre of the city just a few days ago.

And earlier this month, the bureau also required that the city's large- and medium-sized stores that have an operational area above 5,000 square metres as well as supermarkets above 3,000 square metres should have plans under emergency such as possible terrorist attack or explosions.

"The crowded shops in holidays might become ideal targets for terrorist activities. Such emergency plans are imperative and necessary," said an official of the bureau.

The Beijing Tourism Administration urged earlier this month that a limit on the number of people who plan to see the flag-raising ceremony on the Tian'anmen Square on National Day be imposed to avoid traffic jams and possible terrorist attacks.

"China has raised its awareness of possible terrorist attacks since the tragic September 11 US attack," Lin Wei, a professor from China Youth University for Political Science, told China Daily.

"For a metropolis like Beijing, it is very necessary to set up a local anti-terrorism division that exclusively deals with terrorist activities," he said.

China now has a Counter-terrorism Bureau under the Ministry of Public Security but no provincial-level, anti-terrorism organizations.

The unceasing terrorist attacks in the world impel China to be vigilant of its public security, said Lin.

To make security preparations for the 2008 Olympic Games in Beijing may also be one of the chief concerns, he added.




Today's Top News
Top China News

Beijing mulls setting up anti-terror bureau




Bumper wheat crop boosts confidence




FM: China supports UNSC reform




ED patients get easier access to Viagra




Cakes take the bite of packaging




Boat accident in Sichuan kills 20