Boat accident in Sichuan kills 20
By Guan Xiaofeng (China Daily)
Updated: 2004-09-28 01:30
Twenty people were killed and six others are still missing after a passenger ship capsized in Sichuan Province.
The ship overturned at 7:30 am Monday in Peng'an County, Nanchong City, Xinhua reported.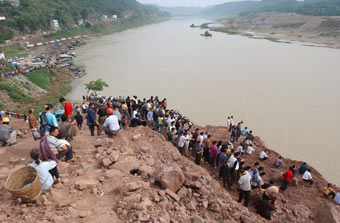 Local residents gather along the river where the "Chuanpengke 29" capsized Monday in Southwest China's Sichuan Province. Twenty people were killed in the accident and six are still missing. [newsphoto]


The ship "Chuanpengke 29" was carrying 80 passengers and three crew members from Shijiaba Village to Jinxi Town along the Jialin River, a major branch of the Yangtze River.

When approaching its destination, the ship was suddenly overturned by rapid torrents caused by the construction of a local hydropower station and all people on board fell into the water.

Among the victims, 57 people were pulled to safety while 18 bodies were recovered, two people died later at hospital while 24 survivors were still receiving treatment and were out of danger, said Du Guanghui, Mayor of Nanchong City.

The cause of the accident was still under investigation, but a witness said that overloading might have led to the accident as the common capacity of the local passenger ships is between 50-70 people.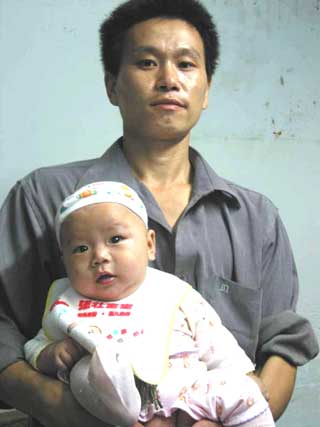 Mr Zhou's three-month-old son survived the boating accident in which his mother was killed. [newsphoto]

This is the second major boat sinking in the past few days.

Last Thursday, an unlicensed ferry carrying 69 passengers capsized on the Yellow River in Linyi County of North China's Shanxi Province, killing 14 and leaving 34 missing.

Rescue work is ongoing but the hope of finding more survivors is growing slim.

As millions of people prepare to travel during the "October 1 Golden Week", China's week-long National Day Holiday, the issue of security is arousing concern.

The State Council Work Safety Commission emphasized in the National Work Safety Meeting held last week in Beijing that governments should make every effort to avoid any major work accidents and ensure a safe "golden week."

In the first eight months of this year, 309 people were killed or are still missing in water traffic accidents , according to Wang Xianzheng, Director of the State Administration of Work Safety.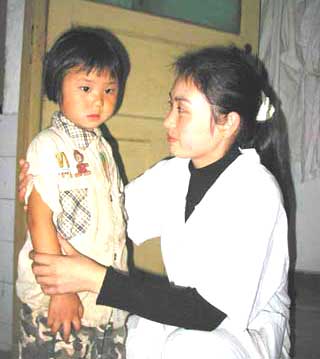 This three-year-old girl survived the accident but her mother died. [newsphoto]
Today's Top News
Top China News

Province fills leading positions via election




Immediate interest rate rise unlikely




Death toll from boat accident rises to 28




Strong earthquake shakes central California




Birth anniversary of Confucius remembered




Graduates' job situation improving