ED patients get easier access to Viagra
By Kang Jian (China Daily)
Updated: 2004-09-28 01:30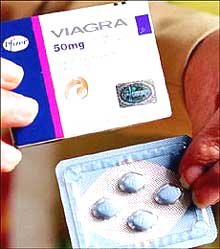 Chinese men will have easier access to Viagra, a drup for erectile dysfunction made by Pfizer. [zaobao.com]

Chinese men suffering from erectile dysfunction (ED) now have easier access to Viagra.

The best-known ED treatment in the world, can now be sold by retail pharmacies.

China's Ministry of Health and the State Food and Drug Administration Monday gave the green light for pharmacies in major cities to sell Viagra, a strictly-controlled prescription medicine that has been available since 2000,

At the same time, doctors from a wider range of departments are now authorized to prescribe Viagra.

Pfizer China, the developer of Viagra, announced the approval Monday in Beijing.

According to a joint release by the Ministry of Health and the State Food and Drug Administration, doctors in the departments of urology, andrology, psychiatry, gerontology and those treating endocrine and cardiovascular illness at hospitals above county level or at specialized hospitals for cardiovascular and psychiatric illnesses may issue prescriptions for Viagra.

Previously, only chief physicians in a few of departments including urology and cardiovascular diseases were authorized.

The Ministry of Health and the State Food and Drug Administration made the decision based on more than six years of clinical research and use of Viagra worldwide, as well as more than four years of clinical use among Chinese patients.

More than 2,000 patients in 36 big hospitals across the country participated in the clinical research in the past four years, said Guo Yinglu, a senior professor of urology with No 1 Hospital affiliated to Beijing University.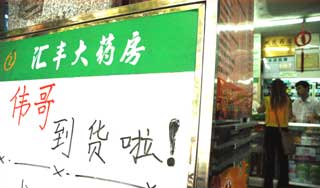 A drugstore in Shanghai puts up a big poster reading "Viagra Available Now" September 28, 2004, the first day the blue pills are sold in pharmacies. [newsphoto]

Medical workers hailed the move as a breakthrough in the treatment of ED in China."Easier access to the treatment would guarantee the happiness of more families,"said Guo.

Several years ago, ED was a taboo topic among Chinese people. The situation has been improving in the past four years since Viagra's entry into the Chinese market in 2000, but more needs to be done to better tackle ED in China, said Guo.

The latest survey by Beijing People's Hospital among 1,000 ED patients in more than 10 cities showed that Chinese patients go to see doctors an average of 22 months after developing the disease, much longer than the average six months in Western nations.

According to the survey, around 90 per cent of ED patients in China do not go to normal hospitals for three major reasons: Self-abasement and prudery, worries about privacy and suspicions about the efficiency of the current treatments.

Experts believe that loosening of controls over ED drugs will not only benefit patients by lowering costs and increasing convenience but will also help arouse public concern about ED, said Zhu Jichuan, chairman of the Urology Association of the China Medical Association.

Viagra was approved by the State Food and Drug Administration in the United States and the European Union in 1998 year, since then, Viagra has been licensed and marketed in 123 countries and districts.

Pfizer has vowed to further tighten up interior management during the distribution and retail sale of Viagra in the future, said Edward Allan Gabor, chairman and general manager of Pfizer Pharmaceutical Limited.




Today's Top News
Top China News

Minister: North Korea has nuclear deterrent




Beijing mulls setting up anti-terror bureau




Bumper wheat crop boosts confidence




FM: China supports UNSC reform




ED patients get easier access to Viagra




Cakes take the bite of packaging