Japanese leader reshuffles Cabinet
(Agencies)
Updated: 2004-09-27 14:41
Japanese Prime Minister Junichiro Koizumi reshuffled his Cabinet and the ruling party leadership Monday in hopes of solidifying his flagging political power and boosting his ability to carry out reforms.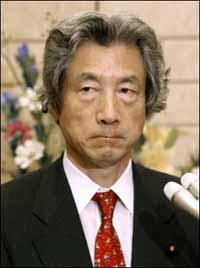 Japanese Prime Minister Junichiro Koizumi has appointed new party executives to his ruling Liberal Democratic Party (LDP), hours ahead of an expected cabinet reshuffle aimed at pushing a reform package. [file photo]

Koizumi replaced Yoriko Kawaguchi as foreign minister, but retained his financial team, keeping Finance Minister Sadakazu Tanigaki, Trade Minister Shoichi Nakagawa and Economy Minister Heizo Takenaka in their posts.

Nobutaka Machimura, a former education minister, will succeed Kawaguchi, government spokesman Hiroyuki Hosoda said.

In one of the most closely watched appointments, Koizumi appointed Takenaka to also be minister responsible for privatizing the postal service, a centerpiece of Koizumi's reform platform.

Koizumi has been flagging in the polls and has faced opposition within his Liberal Democratic Party since the rival Democrats posted strong gains in upper house elections in July.

The Cabinet reshuffle - the first in a year - was aimed at uniting his divided party behind his reforms program.

``There is no doubt that we placed an emphasis on privatizing the postal service,'' Hosoda said at a news conference announcing the new lineup.

Other ministers voiced support for the privatization plan, with Finance Minister Tanigaki noting the government had to put a stop to how money from postal savings deposits underwrites public spending projects.

``We must fix the situation of so much money flowing into public coffers,'' Tanigaki said. ``I plan do my part as finance minister.''

Koizumi also chose a new leadership for the LDP, including former Farm Minister Tsutomu Takebe as the new secretary-general. Takebe replaced Shinzo Abe, who resigned to take responsibility for the election results in July.

Abe, a close ally of Koizumi's and a popular figure with voters, will stay on in party leadership in the post of acting secretary-general.

``I hope to fulfill the prime minister's words asking me to do my best on postal privatization and other issues,'' Takebe said.

Former Trade Minister Kaoru Yosano was installed as the party's policy chief.

The prime minister has made support for his plans to privatize the state postal service a condition for being awarded a highly coveted Cabinet post.

Koizumi also may be hoping for a boost in opinion polls, as his earlier reshuffles have earned him.

Once favored by more than 80 percent of the electorate, Koizumi's support ratings are now languishing at about half that.

Recalcitrant lawmakers in the LDP are becoming more brazen about opposing his reforms, most recently coming out against postal service privatization.

Koizumi has also faced opposition among the public. He was loudly criticized earlier this year for backing a plan to increase national pension premiums and cut benefits.





Today's Top News
Top World News

China unlikely to levy inheritance tax, for now




Experts suggest: Encourage megacities




Taiwan people protest Chen's arms purchase




WHO: Human transfer of bird flu possible




Exporters to enjoy less EU preference




Japan ministers resign ahead of reshuffle