Back to track: Liu Xiang starts regular training
By Fang Xuan (chinadaily.com.cn)
Updated: 2004-09-27 14:39

China's Olympic gold medallist Liu Xiang can't wait to unfold his training schedule, after having been trapped in unceasing ceremonies and activities for about one month.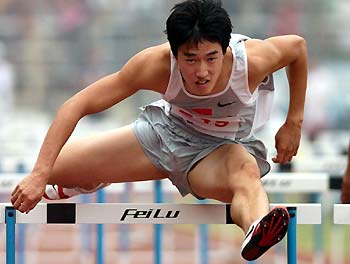 Liu Xiang clears a hurdle in China track and field final.[Xinhua]


"My coach and I are searching for a place for systematic training," said the 110m hurdles world record equalizer. "We must star now, or I'll lose everything."

Liu Xiang took part in the China track and field final in East China's Anhui Province on Sunday, winning the title with ease. However, the time of 13.44-second is much a slowdown compared his 12.91-second victory at the Athens Olympic Games about one month ago.

But Liu's coach Sun Haiping gave his explanation to this mediocre mark. "This race is not on our schedule, but there's a such warm invitation from the hosts, we just can't reject it."

After winning China's first Olympic gold medal in men's track and field events, Liu Xiang has become the most radiant star around China.

"I can't change the fact that I have become the center of public attraction, after winning the Olympic medal, but what I want is a peaceful life, the way I used to be familiar with," said the 21-year-old. "I am young, there's still a long way ahead of me, and I need to improve myself with the help from my coach."

The pair is currently managing a training session in the United States. According to Sun Haiping, Liu Xiang is expected to compete in all stops of IAAF Golden Leagues and World Athletic Championship next year, so they would reject invitations of all sorts of activities after mid-October.

When asked if Liu is able to break the event's world record next year, Sun expressed his confidence in the possibility, "should a self-determined training could be guaranteed".

But Sun also indicated Liu might not rush to set a new record until in Beijing Olympic Games in 2008. "Liu will cash in every opportunity to win, but I hope he could break the record at the Beijing Olympic Games in 2008."




Today's Top News
Top Sports News

China unlikely to levy inheritance tax, for now




Premier Wen gets oil pledge from Russia




Forced abortion puts criminal code on trial




Exporters to enjoy less EU preference




CPC issues document on ruling capacity




Japanese leader reshuffles Cabinet