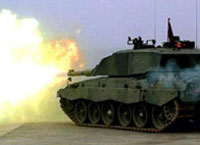 Depleted uranium is used in armour-piercing shells (BBC)
Britain is to test thousands of veterans of the 1991 Gulf War who have suffered a range of unexplained ailments for the possible presence of depleted uranium in their bodies, a report said.
Four clinics will undertake the tests in a attempt to explain so-called Gulf War Syndrome.
Both British and US forces in the conflict used armour-piercing shells tipped with depleted uranium, and veterans' groups have long argued that radioactive dust from the shells could have caused illnesses.
However previous British tests have failed to establish a link, although some of the research has been condemned as unreliable.
Britain's Ministry of Defence is set to announce the establishment of four specialist screening centres where Gulf veterans, as well as soldiers who served in the 1999 Kosovo war, where the uranium shells were also used, can be properly tested.
David Coggan, the scientist overseeing the programme, told reporters that the new tests would be able to detect any amounts of depleted uranium in veterans' urine sufficient to cause ill-health.
The tests would be sufficiently "sensitive and accurate" to uncover even "tiny traces" of uranium, he said.
Around 5,000 British troops have complained of experiencing a range of mysterious maladies after taking part in the Gulf War, in which British troops joined a US-led campaign to liberate Kuwait, invaded the previous August by Saddam Hussein's Iraq.
Common symptoms -- also reported by many American veterans -- include neurological problems, headaches, depression, weakness, joint and muscle pain, rashes and shortness of breath.
Veterans' groups have slammed the British government's response to the situation as insufficient and demanded a public inquiry.

(Agencies)
一项报告表明,英国政府打算对数千名参加过1991年海湾战争的老兵进行检查。他们受到一系列莫名其妙的疾病的折磨,这可能与他们体内可能存在的贫铀有关。
四家诊所将负责这次检查,试图解释所谓的海湾战争综合症。
在海湾战争中,英国军队和美国军队都使用了贫铀穿甲弹,老兵组织一直认为从炮弹里渗漏出的放射性灰尘可能会引发疾病。
但是英国政府早些时候的检查并没有发现贫铀和疾病之间的联系,尽管一些研究被谴责是不可靠的。
英国国防部计划宣布成立四个专家检查中心,参加海湾战争的老兵们和参加过1999年科索沃战争的士兵们可以在这里接受全面的检查。科索沃战争中同样也使用了这种贫铀炮弹。
大卫·科根是负责该项目的科学家,他告诉记者说这项新的检查能够检测出老兵尿液中任何剂量能致病的贫铀。
他说,这个检查非常"灵敏准确",它能检测出"非常微量的"铀。
大约5000名英国士兵在参加了海湾战争后抱怨说他们得了一系列莫名其妙的疾病。1990年8月,萨达姆·侯赛因领导下的伊拉克入侵科威特,英国军队加入了以美国为首的联军去解放科威特。
该疾病的普遍症状包括神经问题、头痛、忧郁、虚弱、关节和肌肉疼痛、皮疹、呼吸短促。很多美国老兵也反映有同样的症状。
老兵组织抨击英国政府对该事件重视不够,并要求进行公众调查。

(中国日报网站译)