Forced abortion puts criminal code on trial
(Beijing Today)
Updated: 2004-09-27 09:27
"I would like a baby very much. I wanted to give birth to it," pleaded 29-year-old Ma Weihua to her lawyer on March 29 at Lanzhou Chengguan Detention Center, Northwest China's Gansu Province.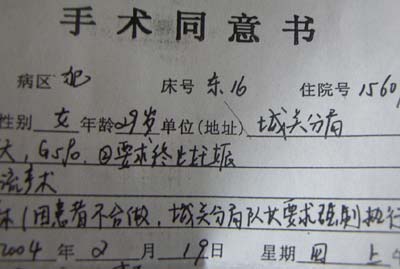 The medical document showed that Ma's abortion surgery was forced. [baidu]

Ma was seven weeks pregnant when she was apprehended by the Anti-Drug Group of the Lanzhou Chengguan Public Security Bureau for heroin possession (an offense punishable by death in China) as she arrived in Lanzhou from Urumqi, capital of Northwest China's Xinjiang, January 25.

But on February 18, Ma was given an abortion without her consent by a doctor who used a general anesthetic.

According to the 49th item of the Criminal Code of China, pregnant women are exempted from the death penalty.

Ma was carrying 1.6 kilograms of heroin when she was stopped by police. According to South China Weekend News, a Guangzhou-based newspaper, Ma presented her reasons for carrying the heroin to the anti-drug group.

While working in Urumqi, Ma said she received a phone call from a friend, Sa Liha, whom she met in Sinkiang, asking her to transport some drugs to Lanzhou, capital of Gansu Province.

Ma said she declined the request because it was too hard to buy a train ticket back to Lanzhou. Sa, however, said he would call her after the Spring Festival.

On January 24, Sa called back asking Ma to buy a ticket and leave that same day, promising her 5,000 yuan in compensation. Ma said she was instructed to fetch the "thing" in front of the No. 2 Hospital in Urumqi.

A young man gave Ma a yellow vest with heroin inside at the designated location.

According to Ma, she called Sa who told her he was already in Lanzhou, adding that she should send the drugs directly to him upon her arrival.

On January 25, when Ma arrived in Lanzhou and called Sa, he told her to meet him. But when Ma arrived there by taxi, she was stopped by police as soon as she stepped out of the vehicle. The police then discovered the heroin and took Ma in for questioning.

Weng Weihua, Ma's lawyer, reported some inconsistencies surrounding the case to South China Weekend News.

According to Weng, the police said they had monitored Sa's phone calls to Ma, which is how they say they managed to crack the case.

But Weng wondered how the police was able to identify Ma so quickly based on mere telephone conversations wih Sa. He also questioned why Sa was not apprehended?

The police made no comments in response to Weng's investigation. However, an anonymous source told South China Weekend News last Thursday that Sa had been transporting drugs for many years without being caught, while many of his accomplices were arrested.

Forced abortion

Ma was sent to the Lanzhou Chengguan Detention Center after the incident for 48 hours. During a routine examination, she was declared pregnant, and the center refused to hold a pregnant offender in custody.

On February 18, the anti-drug group took Ma to Kangtai Hospital. The next day, a doctor gave Ma a general anesthetic and performed an abortion even though she had not signed a form authorizing the procedure.

According to the head of the Chengguan Anti-Drug Group, a general anesthetic had to be administered because "the patient was unwilling to cooperate."

Generally, anesthetics are not required for aborting early pregnancies, such as Ma's.

Li Junyi, head of the Anti-Drug Group, who signed the abortion slip for the client, refused to comment.

Zheng, section chief of the Propaganda Section of the Lanzhou Public Security Bureau told South China Weekend News that Lanzhou's Public Security system had launched an investigation.

However, after the forced abortion, police failed to submit an affidavit that said Ma was not aware of her pregnancy before being examined at the detention center, or the abortion slip permitting the procedure to take place to the procuratorate.

When Weng complained that some vital evidence was missing, the procuratorate sent a team to check the files at Kangtai Hospital and found the abortion slip.

Weng argued that while carrying 1.6 kilograms of heroin is punishable by death, since Ma was pregnant and aborted by force, she should not receive the death penalty.

A civil servant at the Lanzhou Public Security Bureau told South China Weekend News that some drug pushers take advantage of the regulation in the Criminal Code and get pregnant on purpose to escape the death penalty, "It is possible that Ma Weihua also did that," he charged

However, Chen Ruihua, a professor of criminal law at the School of Law at Peking University, said that even if this was true, it could not justify the forced abortion.

Chen also pointed out that public security departments should know that the laws are based on the principle of humanism and that fetuses are innocent; so, even if certain criminals may abuse the regulation, the 49th item has to be honoured.

First court hearing

In the first court hearing on July 13, Weng defended Ma based on the following: First of all, Ma was apprehended before the drugs reached the hands of the traffickers, which, he says, is less harmful to society; secondly, Ma's actions were instigated by another party, and it wa her first time committing a crime. Besides, he added, Ma cooperated fully with the police.

More importantly, Weng said that Ma was already pregnant when stopped by police. She was given an abortion without her consent and the 49th item of the Criminal Code must be applied.

However, during the sentencing process, Ma's brother-in-law ¡ª a civil servant who works for the Lanzhou government, and who first told Weng about the forced abortion ¡ª is now unwilling to cooperate and refuses to acknowledge his relationship to Ma, according to South China Weekend News.




| | |
| --- | --- |
| | |
| An Australian Tawny Frogmouth during feeding time | |

| | |
| --- | --- |
| | |
| Pink dolphins in the sea off HK | |

| | |
| --- | --- |
| | |
| Miss Venezuela beauty pageant | |
Today's Top News
Top Life News

China unlikely to levy inheritance tax, for now




Premier Wen gets oil pledge from Russia




Forced abortion puts criminal code on trial




Exporters to enjoy less EU preference




CPC issues document on ruling capacity




Japanese leader reshuffles Cabinet