AC Milan defeats Lazio 2-1, Inter held to 2-2 draw by Parma
(Agencies)
Updated: 2004-09-27 09:09
Andriy Shevchenko netted two second-half goals to rally 10-man AC Milan to a 2-1 win at Lazio on Sunday, lifting the defending league champion closer to the top of the Serie A standings.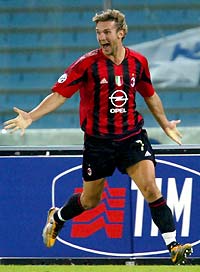 A.Shevchinko celebrates his goal.[Reuters]

The Milan powerhouse, coming off a 2-1 home upset by lowly Messina in the previous round, piled up seven points, three short of league leader Juventus, which was held to a 1-1 draw by Serie A newcomer Palermo on Saturday.

AC Milan, owned by premier Silvio Berlusconi, seemed doomed when midfielder Massimo Ambrosini was ejected in the 53rd minute for hitting an opponent with Lazio leading 1-0 on a first-half goal by Portugal defender Fernando Couto.

Instead, Milan kept pressing on the attack and Shevchenko made it 1-1 in the 70th from an angled position off a corner kick.

Four minutes later, the Ukrainian striker beat two defenders and scored the game-winner with a powerful drive past goalkeeper Angelo Peruzzi.

It was Sheva's third goal in the current season.

``It was the victory of the whole team. We never give up,'' said Shevchenko, the top league scorer last season.

``The ejection of Ambrosini gave us the charge that we missed in the first half,'' Milan coach Carlo Ancelotti said.

In the closing minutes Jon Dahl Tomasson and Andrea Pirlo squandered two easy chances for Milan's third goal.

The other Milan team, Inter Milan, needed two late goals within 10 minutes by its Nigerian teenage striker Obafemi Martins to clinch a 2-2 home draw against Parma.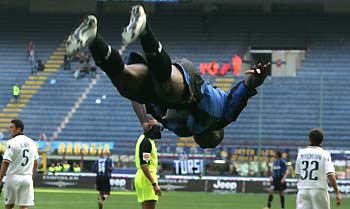 Martins celebrates with his trademark flips.[Reuters]

Martins, a second-half substitute for Christian Vieri, equalized in the 72nd minute with a quick goal by Parma forward Alberto Gilardino, and struck again in the 82nd to level a goal by Parma's Marco Marchionni six minutes earlier.

The second home draw against underdog opponents gave Inter six points in the standings, four behind Juventus.

Parma, which had to sell several key players in the off season to avoid bankruptcy in the wake of the Parmalat collapse, pocketed its second point in four rounds.

Inter coach Roberto Mancini again blamed defense for his team's failure to achieve its first win of the season at home.

Inter has allowed seven goals in four matches, while scoring eight.

``We allow too many goals, while creating many scoring chances. We must settle our defense,'' Mancini said. ``The gap from Juventus is not worrying. Points can be recovered but the team must improve to recover.''

Martins, whose quick moves put the Parma defense in trouble, scored his first goal from a few meters following a defensive mishap by the visitors. He netted the second, fed by Alvaro Recoba, with a precise drive from the edge of the penalty area.

The Nigerian forward was fielded in the 58th minute to substitute for Vieri, whose scoring drought stretched to a five-month span.

Messina and Lecce, keeping up the sensational start of lowly teams, moved into a second-place tie with eight points. Milan and Lazio came next, tied at seven.

Messina had already stunned AS Roma and AC Milan in the previous rounds before playing a goalless draw with Chievo, which squandered a second-half penalty.

Lecce downed 10-man Cagliari 3-1 on goals by Sasa Bjelanovic, Guillermo Giacomazzi and Marco Cassetti.

Brescia clinched its first season win with a controversial 2-1 victory over Udinese at Friuli Stadium.

Substitute Daniele Mannini kicked in the game-winner in the 76th minute while Udinese goalkeeper Morgan De Sanctis was on the ground following a collision in a previous action.

The referee validated the goal after consulting the linesman. The decision touched off a brawl between several players which led to the ejection of Czech midfielder Marek Jankulovski.

Sampdoria also pocketed its first three points of the season, beating Fiorentina 2-0 on the road, with goals by Fabio Bazzani and Stefano Sacchetti.

Livorno and Atalanta fought to a 1-1 draw with both teams ending the match one player down.

Siena and Reggina played to a goalless draw in a match between underdogs.

AS Roma suffered a humiliating 3-1 loss to nine-man Bologna on Saturday and slipped six points behind La Juve. The loss led to the resignation of German coach Rudi Voeller.

Voeller left Roma ahead of Tuesday's crucial Champions League match at Real Madrid.

Also on Tuesday, Juventus will play host to Maccabi Tel Aviv in the European competition. AC Milan plays Celtic and Inter Milan is at Anderlecht on Wednesday.




Today's Top News
Top Sports News

Experts suggest: Encourage megacities




Taiwan people protest Chen's arms purchase




Exporters to enjoy less EU preference





Bush: Iran will not get nuclear weapon




Shanghai expecting third baby boom to hit




Premier pushes for stronger Russian ties