Barrichello wins China Grand Prix, Schumacher last
(Agencies)
Updated: 2004-09-26 19:25
Rubens Barrichello claimed the inaugural Chinese Grand Prix on Sunday, with Ferrari teammate Michael Schumacher finishing a hard-luck weekend in 12th place, more than a lap behind.
Barrichello finished the 56 laps on the newly completed 5.451-kilometer (3.388-mile) Shanghai International Circuit one second ahead of Jenson Button of BAR-Honda. Kimi Raikkonen of McLaren-Mercedes was third, almost catching Button at the end.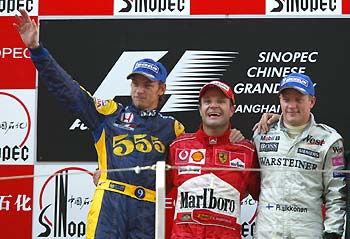 Chinese Grand Prix winner Brazilian Rubens Barrichello of Ferrari is flanked by second placer Briton Jenson Button (L) of BAR and third placer McLaren's Kimi Raikkonen (R) of Finland during the awards ceremony at Shanghai Circuit September 26, 2004. [Reuters]
The victory is Barrichello's ninth of his Formula One career and second in a row following his win at the Italian GP two weeks ago. It guaranteed him second place in the drivers' table behind teammate Michael Schumacher, who concluded a disastrous weekend with a 12th place finish.
With two races left in the season, the top three places in the drivers standings are already decided. Schumacher with 136 points leads Barrichello on 108 in the standings, with Button in third place with 79.
Renault's Fernando Alonso was fourth at Shanghai, 32 seconds behind, keeping the BAR-Honda and Renault team battle for second and third alive.
Juan Pablo Montoya of Williams was fifth after of BAR's Takuma Sato. Giancarlo Fisichella and Felipe Massa of Sauber-Petronas followed.
Barrichello, who has been second to Michael Schumacher seven times this season, has now beaten his teammate over the past two races. Schumacher finished second in Italy.
"It s been a season I was playing catchup to Michael," Barrichello said.
Button went for a two-stop race, initially carrying a lot of fuel.
"It was a very tough race, and you know the other guys are doing three stops and you are only two. It was very tough mentally," Button said. "With that much weight there is a lot of over steer. The car was a lot heavier."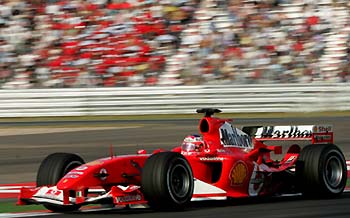 Brazilian Rubens Barrichello of Ferrari drives during the Chinese Grand Prix at Shanghai Circuit September 26, 2004. [Reuters]


Schumacher started the race from the end of the pit lane. After spinning out in Saturday's qualifying, he would have started in the back of the pack anyway, so his team gave his car a fresh engine and a full tank of fuel as soon as the race started.

At the end of the first lap the 2004 champion was in 20th place, 15.9 seconds behind the leader and dropping back as traffic slowed him.

By the 15th lap, Schumacher was 36 seconds behind Barrichello in first when a spin out cost him precious seconds and ruined his strategy.

He went in for his pit stop at the end of 20 laps and at the end of 21 laps was 49 seconds behind. Further traffic hold ups saw him drift off the pace, costing him about two seconds a lap and at 25 laps he was more than 61 seconds behind.

After 35 laps Schumacher had another round of bad luck when his left rear tire schredded, forcing him in for an early pit stop. He went for another pit stop at the end of 47 laps, making for a three-stop race instead of the planned two.

Barrichello, starting form pole position, led virtually the entire way. Although button held the lead while Barrichello pitted, the Brazilian had the race in hand from the start.

Schumacher, despite 82 career victories and 12 this season, had a woeful weekend.

The German finished a race outside the points for the first time in at least three years, coming after his worst qualifying position as a Ferrari driver.

The only other times Schumacher has failed to score points was when he crashed -- like at Monaco this season -- or have a mechanical failure -- as he did in Germany in 2001.

The last time he actually finished a race out of the points was at the season-opening race in 1999, the Australian GP when he came in eighth, when the top six places scored points. He also had a 10th at the 1998 Monaco GP.

The next race is the Japanese Grand Prix October 10.




Today's Top News
Top Sports News

Taiwan people protest Chen's arms purchase




Premier pushes for stronger Russian ties




Barrichello wins Chinese Grand Prix




CPC central committee to give reforms boost




Iran says it tested 'strategic missile'




DPRK missile site movements said continuing