Taiwan people protest Chen's arms purchase
(Chinadaily.com.cn)
Updated: 2004-09-26 09:26
Taipei - Tens of thousands of protesters marched through Taipei Saturday afternoon, urging the local government to scrap a historical high U.S. weapons package, which the protesters complained would trigger a bitter arms race with the Chinese mainland and squeeze local social welfare.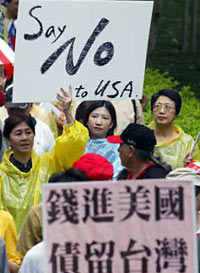 Protesters carry banners during a march to the "presidential" palace in Taipei on September 25, 2004. Thousands of protesters marched through Taipei, urging the local government to scrap a big U.S. weapons package they said would trigger an arms race with the Chinese mainland and squeeze social welfare. [Reuters]

The pro-independence Chen Shui-bian administration has proposed a T$610.8 billion (US$18.2 billion) deal to buy military hardware from the United States, which, ironically, has pledged to pursue a one-China policy, and recognize Beijing as the legitimate Chinese government.

According to relevant reports, the weapons package is made up of US$4.3 billion for Patriot Advanced-Capability 3 missile defenses, US$12.3 billion for eight diesel-electric submarines and US$1.6 billion for 12 P-3C Orion submarine-hunting aircraft.

Beijing and the mainlanders have viewed the self-governing Taiwan as a breakaway province since a civil war in 1949 and has warned Taipei authorities that war will erupt across the Taiwan Straits if the island declares formal independence.

The planned arms purchase has already boosted the rhetoric of some Taiwan politicians. Taiwan¡¯s No 2 official Yu Shyi-kun said: "If you attack me with 100 missiles, I will attack you with at least 50. If you attack Taipei and Kaohsiung, I will attack Shanghai." .

Many security analysts see the Taiwan Strait as the most dangerous flashpoint in Asia.

Protesters disagreed with Yu's comments.

"Chen Shui-bian only likes to please the United States to protect his rule. He wants to die, but we will not follow him," said a retired soldier, surnamed Chang.

A 40-year-old housewife surnamed Lin, said: "We don't want any war, especially since both sides are Chinese."

Holding banners reading "Our money, Your war," "Want peace, No war," the protesters ranging from veterans to unemployed workers and children, joined the march to the "presidential palace" in central Taipei.

Some protesters brought with them bubble tea that became a symbol of anti-arms purchases after the defense department issued pamphlets saying Taiwan could afford the weapons if its 23 million people each drank one less bubble tea a week.

The arms package has come under growing criticism, with opponents charging that the weapons are too costly, or take too long to deploy to be an effective defense.

Opposition parties, which hold a slim majority in parliament, said the island could not afford the weapons and the money should be spent on social welfare or education.




Today's Top News
Top China News

Taiwan people protest Chen's arms purchase




Premier pushes for stronger Russian ties




CPC central committee to give reforms boost




Iran says it tested 'strategic missile'




DPRK missile site movements said continuing




Chinese economy grows at 9% this year