Reward offered to solve riddle of ancient cliff tombs
(Xinhua)
Updated: 2004-09-25 01:19
Management of a famous Taoist mountain in east China's Jiangxi Province has offered to pay 400,000 yuan (US$48,000) to anyone who can give a convincing explanation of how tombs were built on its steep cliffs more than 2,600 years ago.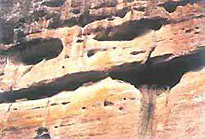 Tombs on the cliffs of Longhu Mountain in eastern China's Jiangxi Province. [newsphoto/file]

The cliff tombs, containing more than 200 ancient wooden coffins, are one of the three geological and cultural legacies of Longhu Mountain, or Tiger and Dragon Mountain, in Yingtan city of the central-eastern province. The other two wonders are its wide variety of landforms and rich Taoism culture.

An archeological worker in Jiangxi Province dug into 18 of the ancient tombs in the 1970s. He excavated 37 coffins and sacrificial projects dating back to the Eastern Zhou dynasty, at least 2,600 years ago.

No one has been able to determine how the tombs were built, though the management of Longhu Mountain tourist zone previously offered 300,000 yuan (some US$36,000) in 1997 to anyone who could give a plausible answer.

The move aroused public interest, and nearly 10,000 scholars, expeditioners and others came up with various hypotheses.

Some said the tombs had not been built there, but had gradually risen to higher altitude as a result of geological changes or the rise and fall of floods.

Others, however, said the ancient people had built the tombs in the mountains on purpose, with hopes that the burial ground of their ancestors would never be damaged. Some even boldly imagined that the ancient men had worked out a primitive form of scaffold for the construction.

Management of Longhu Mountain has decided to offer an even higher reward in order to draw more convincing explanations.

Longhu Mountain, some 16 km outside Yingtan, is a foothold of Taoism. It used to be the residence of Zhang Tianshi, who founded Zhengyi sect, a major division of Taoism.

The mountain was put under special protection by the Chinese government in 1983 and was listed as one of China's first 11 national geological parks in 2000.




Today's Top News
Top China News

Premier pushes for strengthened partnership




Nation gears up for incoming holiday




36 still missing as search goes on




Dorm: A room of one's own




Telecom, Netcom to link wireless services




Moves to expose dangers of smoking