Jackie Chan: From action maestro to serious actor
(Agencies)
Updated: 2004-09-24 14:29
Known more for his daredevil stunts than his ability to emote, action superstar Jackie Chan now wants to become a real actor, like Robert De Niro. He talks to Life! about his son, Jaycee, and his frustrations with Hollywood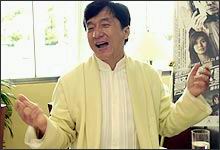 Jackie Chan gears up for a serious actor.

Actor Jackie Chan is tired of being typecast as an action hero.

The superstar, who turned 50 in April, wants to be known as a serious actor.

In Singapore for a day to promote his latest movie, New Police Story, he appeared uncharacteristically subdued and pensive at the Conrad Centennial hotel yesterday.

Dressed in a yellow samfoo, he was nursing a cold but brushed it aside irritably, saying in Mandarin: 'I'm cheap. Whenever I stop working, I fall ill.'

When asked if he could ham it up for the camera by showing off some of his trademark punches, he declined, opting instead to remain in his seat, albeit with a polite smile on his face.

When Dai Gor (Cantonese for Big Brother) in says he wants to be seen as a serious actor, you'd better take his words seriously.

In your new movie, you weep so often we wonder what's happened to Mr Tough Guy. What's with the tears?

I've been seeking a breakthrough for many years. I've always wanted to change, to become a real actor, like Robert De Niro. I don't want to be seen as an action hero anymore. I mean, how long can I continue doing that?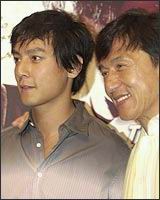 'Daniel is like a son to me...the thing I like best about him is that he's very obedient. Of course, he has the looks too' - Jackie Chan (right) on his New Police Story co-star Daniel Wu (left)

Of course, I know what everyone expects when they go to watch a Jackie Chan movie. You can't even do one stunt less. But now I just want to try something different. It's a gamble, but making movies is a very big gamble anyway.

Does this change have anything to do with your age? After all, you hit the half century mark in April.

Yes, age definitely plays a part. You change as you grow older. Now, when I watch Drunken Master, I feel embarrassed. I can't imagine myself doing all that stuff again.

Physically, it's not a big problem. I know how far I can go. If a stunt is too taxing, we have ways to get around that.

Your son Jaycee said recently that it's useless to kidnap him because you'll not pay the ransom...

I won't comment on that.

Jaycee's debut movie The Twins Effect II did very well at the box office. What if New Police Story does not perform as well?

I believe that that will never happen. I'll definitely do better than him. His movie was shown only in the region, but mine will travel to places like India and Israel. How can he beat that?

You refused to publicly acknowledge Jaycee as your son until a few years ago, you forbade him from keeping his hair short, and now you've slammed his song Walking While Singing. Sure doesn't sound like fun being Jackie Chan's son.

I have very high standards. I don't even think that my movies are good enough. How could anything be perfect?

Jaycee is far from perfect. I've not watched his movie, but I'm sure he couldn't have done too well. He's just a newcomer.

Daniel Wu took seven years to mature into the actor he is now. So how could my son be good with just one movie?

Speaking of Daniel Wu, he has been appearing in your recent movies. Why?

Daniel is like a son to me. I was the one who got him into showbiz. I think he's pretty good. The thing I like best about him is that he's very obedient. Of course, he has the looks too.

Do you think Daniel Wu has what it takes to be your successor?

(Pauses) He's different from me. At the moment, I haven't found anyone in the movie industry who might become my successor.

You've also ruled out Jaycee, right?

It's impossible for Jaycee to succeed me because he simply doesn't have the talent. I tried teaching him gongfu when he was a kid, but he just didn't have the flair for it.

He told me: 'I'll never be better than you. So, I don't want to learn gongfu. I'll learn music instead.'

Some say Jaycee is lucky because he is having a grand time in Hong Kong while Etta (Chan's illegitimate daughter with Hong Kong actress Elaine Ng) can only hide in Shanghai.

I won't answer that. (Pauses) Why shouldn't Jaycee have a grand time? He is my son.

People are also saying that he is enjoying a smooth ride in showbiz because of you.

He has put in effort too. He is hardworking. I mean, he can't deny that he is Jackie Chan's son, right?

Your last few Hollywood movies - Around The World In 80 Days, The Medallion and Shanghai Knights - were not major hits. What went wrong?

It's very hard to find a script which suits me in Hollywood. I've rejected so many projects because I didn't like the scripts.

(Frowns) There was this one where I have to play a cop who takes care of seven kids, sort of like The Sound Of Music. Then there's one where I'm a cop who takes care of four people.

It's all the same: cop from Hong Kong, cop from China. Jet Li, Chow Yun Fat and I face the same problem in Hollywood. Our roles are so limited.

Even if they gave me a script like Forrest Gump or Saving Private Ryan, I couldn't do that. My English is not good enough. Then again, if Tom Cruise or Tom Hanks came to Hong Kong, there aren't many roles they can play either.

So are you done with Hollywood?

No, I'm doing Rush Hour III next year. I went to Hollywood because they invited me, not because I wanted to go there. Making movies in the United States gives me a sense of achievement, but there is no sense of superiority.

Yes, I get treated like a king over there, but I'm not happy. I get frustrated when I see them doing things the wrong way, but I can't say anything.

In Hong Kong, I treat myself like sh**, but I'm in full control.

Still, we need the Hollywood experience because the American market is so much bigger.

In New Police Story, you say 'I love you'. Is this the first time you've ever done so?

(Laughs) Yes, I've never said 'I love you' to a woman. All I'd say is 'I like you', but it's very stupid for a woman to ask me if I love her.

So you've never said 'I love you' to your wife Lin Feng-chiao?

Yes. That's why she likes me. I'm just a brute. When she fell in love with me, she was always in the company of handsome actors like Chin Han and Chin Hsiang-lin, but she chose me anyway.

We never celebrate Valentine's Day. I give her presents which were given to me by other people. Once, I took some flowers from Jacky Cheung's concert and gave them to her. She was delighted. (Laughs)

All these years, she has only been mad at me once, when I forgot her birthday during our first year together. I told her: 'So shall I be good to you only on your birthday?' She got my point and never made a fuss again.

I don't remember birthdays, not even my son's.




| | |
| --- | --- |
| | |
| DreamWorks's 'Shark Tale' premiered in New York | |

| | |
| --- | --- |
| | |
| Milan women's collection show | |

| | |
| --- | --- |
| | |
| An Australian Tawny Frogmouth during feeding time | |
Today's Top News
Top Life News

Circular economy enhances development




Death toll from boat accident rises to 28




7 hostages freed in Iraq, including 2 women




Strong earthquake shakes central California




Birth anniversary of Confucius remembered




Graduates' job situation improving