Britney Spears hits back at fake wedding claims
(Agencies)
Updated: 2004-09-24 09:42
Pop princess Britney Spears reportedly admits that she is not yet legally married but has hit back angrily at claims that her secret wedding last weekend was a fake.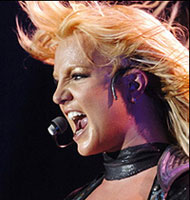 Pop princess Britney Spears, seen here in May 2004, reportedly admits that she is not yet legally married but has hit back angrily at claims that her secret wedding last weekend was a fake. [AFP]

The riposte came during a war of words between "People" magazine and rival "Us Weekly" magazine, which said in its October 4 edition that Spears and fiance Kevin Federline staged a 'faux wedding' after their lawyers failed to strike a deal over their pre-nuptial contract in time.

But the singer, famed for such hits as "Oops, I did it again" and for her 55-hour Las Vegas marriage to a childhood friend in January, dismissed the claim and insists that she has in fact done it again.

But she and Federline both conceded that they have not yet filed their marriage licence with Los Angeles authorities, meaning that they are technically still not wed.

"I'm really upset that somebody someplace decides to write a false headline about a special day that I've dreamed about since I was a little girl," she told People, which reportedly agreed to pay two million dollars to the couple for rights to the pictures of their wedding.

"I know were not completely legal until we file the license, which we'll do next week, but in a real sense, a spiritual sense, were married," the 22-year-old multi-millionairess said.

The couple said they took out a marriage license ahead of Saturday's ceremony at a friend's home in Los Angeles and have 90 days to file it with authorities. "We'll file our license next week," Federline said.

Us weekly magazine quoted a legal agreement, which it said the couple signed four days before the wedding, stating that the rose petal-strewn ceremony was a fake and that that they would not consider it binding.

The magazine also said it had obtained a draft copy of a pre-nuptial contract saying the pair intended to marry genuinely on October 16.

According to Us, Saturday's ceremony was downgraded to a "faux wedding" amid a wrangle over the contract that would protect Spears huge wealth in the event of a marital split-up.

But the couple said they had planned their surprise wedding to cut the ravenous press off at the pass after details of the planned October 16 ceremony in Santa Barbara, north of Los Angeles, were leaked to media.

"We were being stalked every day, everywhere we went. So the only way we could really avoid all that is to push up the wedding date and do it immediately," Federline said.

But the 26-year-old former back-up dancer said Saturday's ceremony, at which guests were served snacks such as chicken fingers and hamburgers, was the real thing.

"More importantly, this was such a spiritual connection for us, the wedding was. No piece of paper can capture what I feel," he told people.

In the interview with People, Spears -- who would become stepmother to Federline's two young children from a previous relationship -- quashed rumours she was pregnant but said she would like to be.

"I can see us as parents. I can see myself as a mom. Next year, at 23, I am so there," she said.




| | |
| --- | --- |
| | |
| Elton John calls Taiwan cameramen 'rude, vile pigs' | |

| | |
| --- | --- |
| | |
| Britney Spears hits back at fake wedding claims | |

| | |
| --- | --- |
| | |
| Gates pegged on Forbes Richest list in U.S. | |
Today's Top News
Top Life News

China urges Spain to punish arsonists




Premier in Russia eyeing oil, technology deals




Removal of textile trade quotas urged




Crackdown on pirated software to intensify




Experts retrieve chemical weapons




Ferry sinks, killing at least 12