Unions fight for more recognition
By Fu Jing (China Daily)
Updated: 2004-09-24 02:30
The eyes are bloodshot, the hearing is gradually dimming and the insomnia is a nightmare.
These symptoms have tortured 36-aged Wang Wuquan for years since he worked as a steel powder maker for a Beijing-based cellphone parts manufacturer in 2001, Sanhuan Sagami High-Tech Company. The Sino-Japanese joint venture recently came under the spotlight after it sacked its trade union leader Tang Xiaodong.

Wang Wuquan shows his eyes to the photographer, claiming that he has been suffering from eye problems as well as other discomforts since working in the factory in 2001 due to poor working condition. [newsphoto]


But the physical pain is not all Wang has to endure as a member of China's vast army of migrant workers from Southwest China's Sichuan Province.

For Wang is about to lose his 625 yuan (US$75) a month job -- 200 yuan (US$24.18) more than Beijing's minimum monthly wage -- for supporting Tang along with four other workers.

"My job has already been filled," said Wang, who expects to lose his job when his one-year contract ends on September 30.

Wang has been exposed to steel powder for three years at the factory where he works and fears he may now have acute silicosis. His employers have refused his numerous requests for a medical examination.

It's not the only request they have turned down out of hand. Wang claims he is owed up to 1,000 hours' overtime pay, but to date remains empty-handed.

"The company will not easily address my requests, especially when chairman Tang was forced to leave," Wang said outside the locked gates of the firm, which has refused to talk to the media since Tang was sacked.

But despite repeated warnings at management level, some of the braver workers have accepted interviews with China Daily.

"Tang is on the workers' side and we should now firmly support him," they said. "The way we show our support is by revealing the company's malpractice."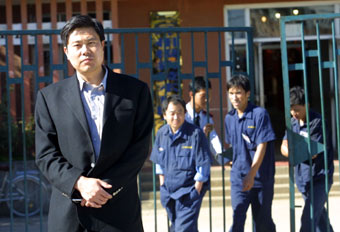 Tang Xiaodong, a trade union leader recently sacked by his employer, stands outside the closed gate of the Sino-Japanese company in Beijing while several workers walk out to meet him. [newsphoto]


"We fired Tang because he was in breach of his duties and had to step down from his post as trade union chairman," present manager of the firm's general affairs Meng Xiaoyuan was earlier reported as saying.

Meng claimed that Tang, as the former manager of his department, had caused the company to suffer economic losses after it was fined by the Haidian District health bureau for failing to get a drinking water supply qualification since 2002.

Tang said he was not the only one responsible for the oversight -- both his department and the equipment department are responsible for water supply -- and workers insisted he was fired because his activities as a union man were not in the interests of the company.

Tang joined the company in 2000 as manager of general affairs.

He decided to set up a trade union to protect his and his workers' legal rights after constant breaches of contract by the company, in late wage payment, poor working conditions and lack of overtime pay.

Supported by the trade union federation of Haidian district, Tang was elected chairman of the company's union with 103 out of 106 workers voting for him in August 2003.

Since then, Tang has helped more than 100 workers sign labour contracts with the company, said Dou Keqing, another colleague and supporter. "The contracts have prevented the boss from casually sacking workers."

Tang has also helped workers negotiate with the company on regular and overtime payment.

"If workers' pay goes up -- company profits go down, so the firm took a dislike to me and looked for any excuse to get rid of me," said Tang, who has been busy preparing an appeal to the Haidian District People's Court with legal aid from Tsinghua University's Centre for Constitution and Civil Rights.

Tang, who was sacked at the end of last month, accused the company of violating the nation's trade union law, which forbids the sacking of trade unionists during their contract term unless they have committed a serious breach of duty.

Lawyer Wu Ge from Tsinghua University, who is willing to offer legal assistance to Tang, said Tang's alleged misbehaviour was not "serious" and that the company's decision to sack him was illegal.

Concerns from top unionist

The All-China Federation of Trade Unions (ACFTU) is treating Tang's case seriously and has pledged to protect the legal rights of workers' and their union leaders.

"As a trade union leader, if he needs any legal aid, we are willing to grant it," said Guo Jun, director of the federation's legal department.

Guo's federation is working hard to bring all workers under the umbrella of trade unions.

"It's a demanding task," said Guo, who said more than 100 million workers nationwide are still not unionized.

Insisting that unions are needed to play an increasing role in protecting workers' legal rights, he complained that many private and foreign companies across China have deprived employees of their rights to set up trade unions.

"Basically, the companies are infringing on workers' freedom of association, which they are allowed to have under the Constitution," said Guo.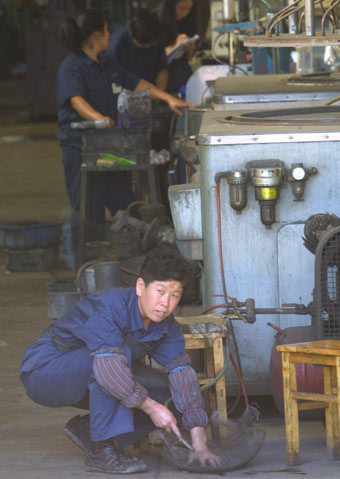 A worker stares out of the workshop while working with a grinder. [newsphoto]


The latest ACFTU statistics indicate that China has approximately 400,000 foreign companies, but only a fifth have set up trade unions. About 40 per cent of 2 million private enterprises have set up trade unions.

"Some multinationals should be blamed for putting workers off from setting up trade unions," said Kong Xianghong, an official from the Guangdong provincial federation of trade unions. In this province alone, 6 million workers are not union members.

Kong criticized Wal-Mart because the US-based international retailer refused to allow unions to operate in its Chinese branch.

An earlier report claimed the company even refused to meet Guangdong's top unionist, who tried to open negotiations with it.

"We've stepped up our efforts for several years but have not succeeded," said Jiang Nan, director of ACFTU. He said the company's application to set up stores in Shanghai had been rejected because of the firms' refusal to accept unions.

China's trade union law says any enterprise, organization or institution that employs more than 25 people must allow a trade union to be set up if workers wish.

Trade unions at higher levels are authorized to send union officials to such companies to help them set up without interference from employers, the law says.

Trade union leaders said employers in non-union companies did not want their staff in unions partly because they feared higher costs and because they feared unions would "cause trouble." "If unions are set up, employers have to create full-time positions for union leaders," said Shi Liya, union chairwoman at a Jiangsu-based medicine factory. "So they don't want to do it."

Shi's company Suzhou Capsule, based in East China's Jiangsu Province, is an example of unionization.

Shi said the company, one of the earliest joint ventures in China, had organized a trade union for its workforce in 1988. "As a trade union, protecting the legal rights of employees is our priority," she said.

In recent years, Shi has tried to obtain full compensation for several employees who she claimed were unfairly fired by the company.

Shi also said changes to company ownership in China had caused concern among trade unions.

"During the 1980s, we only had joint ventures and, in most cases, State-owned investors owned the majority of the shares," said Shi.

But as China gradually opened its market further, foreign-owned and private enterprises mushroomed in China.

"Even though we have trade union laws in place, governments at various levels have paid much more attention to attracting capital, not to building unions," said Shi.

NPC's campaign

The situation has raised concerns from China's top legislative body. This month, a national campaign has been organized by the National People's Congress (NPC) to examine the implementation of an amended trade union law, which took effect in 2001.

Before the campaign, most provincial people's congresses had already conducted inspections on the implementation of the law, which allowed trade unions to become powerful weapons to protect the legal rights of workers, including farmer-turned-workers.

But the results of the inspection have not been satisfactory as many workers are not included in the trade unions.

"Trade unions have assumed the responsibility of speaking out for the workers and seeking fair solutions for them," said Wang Zhaoguo, vice-chairman of the NPC Standing Committee. "We should punish those who have forbidden the legitimate establishment of trade unions."

He said that at a time when labourers' interests and rights were being infringed far more than ever before, better implementation was of unprecedented importance.

Wang said trade unions must represent and safeguard employees' interests and trade union bodies should give priority to defending employees' rights and interests in income distribution, social security, work safety and health issues.

"The NPC inspection group will soon deliver a report on how the law has been implemented," said Guo Jun. "Our priority is to enhance awareness of local governments in protecting the legal rights of workers and their leaders."

Lawyer Wu Ge said his centre was going all out to win the case for Tang.

"If Tang wins the case, worker leaders nationwide will gain confidence," said Wu.




Today's Top News
Top China News

China urges Spain to punish arsonists




Premier in Russia eyeing oil, technology deals




Removal of textile trade quotas urged




Crackdown on pirated software to intensify




Experts retrieve chemical weapons




Ferry sinks, killing at least 12