China urges Spain to punish arsonists
By Hu Xiao (China Daily)
Updated: 2004-09-24 01:18
Chinese Assistant Foreign Minister Shen Guofang called in the Spanish ambassador to China Thursday after violence against Chinese shoe shops in Spain's Elche city.
Shen urged the Spanish Government to take concrete measures to fully investigate the case immediately and punish those involved, according to a Chinese foreign ministry source.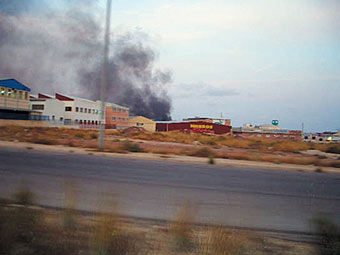 Heavy smoke billows from a wharehouse of a Chinese shoe shop in Elche, Spain, on September 16, 2004. [newsphoto/file]

Shen also requested compensation for the losses of Chinese businessmen and action to guarantee the safety and property of Chinese people living in Spain.

Ambassador Jose Pedro Sebastian de Erice condemned the violence and said the Spanish Government has promised to "protect the integrity of (Chinese nationals) and avoid a repetition of such acts," according to the ministry source.

On Thursday , around 500 people demonstrated in the Carrus industrial zone at Elche chanting "Chinese out" and set fire to the warehouse of a Chinese shoe shop and a container causing losses of 800,000 euros (US$984,000).

Officials from the Chinese Embassy in Spain travelled to Elche on Friday to negotiate with local authorities and urged them to take effective measures to protect the legal rights of Chinese businessmen.

Chinese ambassador to Spain Qiu Xiaoqi said the Elche incident is the first serious case of violence against Chinese businessmen in Spain, adding that the embassy has strongly condemned the acts.

Chinese circles were in uproar after the incident and some businessmen have shown concern for their future in Spain.

An official with the Chinese Embassy surnamed Lin told China Daily Thursday that the situation has calmed since early Thursday morning and most of the shops have resumed business.

"Most Chinese businessmen have calmed down," Lin said, adding that most Spanish people are friendly towards Chinese.

Ten suspects were arrested on Thursday and another five were arrested Thursday by local police with investigations continuing, said Lin.

Lin said it is still too early to say whether there are "deeper motivations behind the case."

Local residents said that before the violence some anonymous leaflets protesting cheap shoes from Asia were circulated in the zone. Some leaflets even encouraged arson.

Local officials said the protests were organized by a "small, non-representative group" acting without authorization.

Elche, located in the southeast of the country, is the capital of Spain's footwear industry. In the past two years, the number of Chinese shoe shops in Elche has grown to over 60. Chinese shoe shops in Spain cater to a wide range of styles from children to ladies and gents.

"Good quality and reasonable prices have made Chinese shoes very popular here in recent years and it is also why Chinese shoe shops boomed so rapidly in Spain," Lin said.




Today's Top News
Top China News

China urges Spain to punish arsonists




SCO plan maps out regional co-operation




Removal of textile trade quotas urged




Crackdown on pirated software to intensify




Experts retrieve chemical weapons




Ferry sinks, killing at least 12