Experts retrieve war-left chemical weapons
(China Daily)
Updated: 2004-09-24 01:18
Another effort to unearth some of the chemical weapons abandoned by Japanese troops during World War II is now underway in Ning'an of Northeast China's Heilongjiang Province.
The retrieval process began early this month and is expected to be completed by the 28th, according to Zhou Bolin, an expert from the Defence Ministry.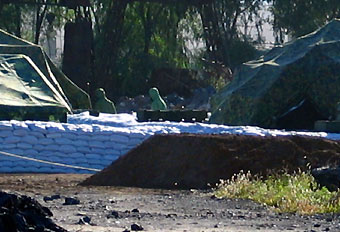 Workers handle hazardous materials at a chemical weapons excavation site in Ning'an of Northeast China's Heilongjiang Province. Abandoned by Japanese troops during World War II, the weapons are expected to be completely retrieved by the 28th of September.[newsphoto]


It is estimated that more than 700 chemical weapons were buried by Japanese troops under a local steel mill during World War II, posing a dire threat to local residents.

The Chinese Government has requested on a number of occasions that the Japanese Government send a team to retrieve these weapons.

In response, a group of over 30 Japanese experts were dispatched to Ning'an. China also sent more than 100 experts to assist in the operation.

Since the site is close to a neighbourhood, strict and detailed measures have been taken to prevent unexpected explosions and pollution.

Experts will continually analyze soil samples to ensure environmental security.

Any abnormal soil will be made airtight and removed from the area.

Unearthed weapons will also be sealed and sent to a temporary storehouse in Ning'an for future destruction.

Chemical weapons are a long-standing issue between China and Japan.

On July 30th, 1999, China and Japan signed a memorandum to destroy all chemical weapons left by Japan in China, in which the Japanese Government acknowledged Japanese troops abandoned chemical weapons in China and promised to faithfully carry out the obligations set by the Convention on the Banning of Chemical Weapons (CWC).

According to CWC, all these chemical weapons should be destroyed by the year 2007.

Both China and Japan are signatory states of CWC, which took effect in 1997.

Bu Ping, a scholar from the Chinese Academy of Social Sciences and a researcher on chemical weapons left by the Japanese in China, estimated that Japanese troops abandoned over 2 million chemical weapons in a dozen Chinese cities and provinces at the end of World War II.

In June this year, 542 Japanese-left chemical explosives were dug up in Qiqihar of Northeast China's Heilongjiang Province by a joint team of Chinese and Japanese experts.




Today's Top News
Top China News

China urges Spain to punish arsonists




Premier in Russia eyeing oil, technology deals




Opinion: UN seat means more than money




Removal of textile trade quotas urged




Crackdown on pirated software to intensify




Experts retrieve war-left chemical weapons