Ferry sinks, killing at least 12
By Qin Jize (China Daily)
Updated: 2004-09-24 01:17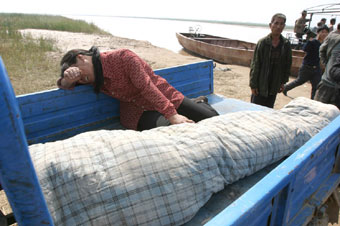 A relative of a victim cries by their family member's body Thursday after a river ferry capsized Thursday in Linyi County, North China's Shanxi Province, when carrying 65 local villagers to flooded land to pick cotton. Twelve villagers were confirmed dead, 17 survived and the rest are still missing. [newsphoto]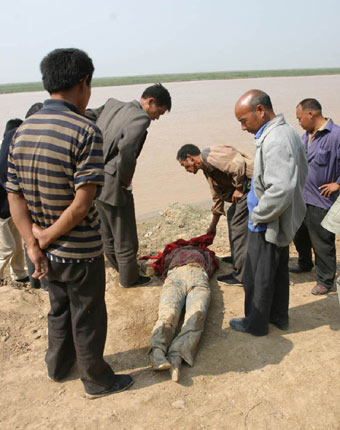 Local villagers identify a victim's body by the river where a ship overturn killed at least 12 people Thursday in Shanxi Proince. [newsphoto]

A rescue ship tries to locate survivors after a river ferry capsized Thursday in Linyi County, North China's Shanxi Province. [newsphoto]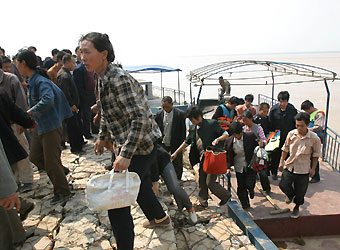 17 out of the 65 passengers aboard the ferry were rescued. [newsphoto]

Twelve people were killed and 36 others are missing after a river ferry capsized Thursday in Linyi County, North China's Shanxi Province.

The ferry was carrying 65 passengers -- all local villagers bound for flooded land along the Yellow River to pick cotton around 8 am Thursday.

Sources with the local government said 12 bodies have been found and some 36 others are still unaccounted for.

Seventeen people were rescued successfully, some of them were able to swim to safety.

No further details are available at the moment. The local government has been going from village to village to identify the victims and check who may be missing.

Police said the accident was probably caused by overloading, adding that further investigations are under way.




Today's Top News
Top China News

SCO plan maps out regional co-operation




Crackdown on pirated software to intensify




Experts retrieve chemical weapons




Spain urged to punish arsonists




Peter Rabbit hops into court




Japan, China need harmony, not antagonism