Liu Xiang defeats Allen Johnson in Japan
(www.IAAF.org)
Updated: 2004-09-23 21:56
China's Olympic gold medallist Liu Xiang consolidates his status as world's fastest hurdler with a convincing victory over Allen Johnson in Yokohama, Japan, Wednesday.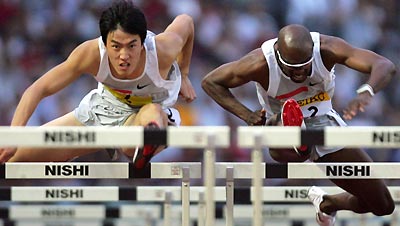 Liu Xiang clocked 13.31 seconds to rank first at the Seiko super track and field meet, with Maurice Wignall of Jamaica following up. Quadruple world champion and world record holder Allen Johnson of the US placed third at 13.41 seconds.
Liu led from the start at the race in which Charles Allen of Canada and Satoru Tanigawa, the Japanese national record holder, were both disqualified with three false starts.
Maurice Wignall of Jamaica, the fourth in Athens Olympics Games, worked his way up and was even with Liu Xiang late in the race, but Liu inched ahead in the end to make the race.
Liu Xiang, becoming a modern idol around China, was short of regular training prior to the race, due to unceasing welcome ceremonies and commercial activities back from Athens.
However, Liu pledged his ambition to beat Allen Johnson's world record of the event, when talking at an interview following the victory.
"My goal would always be breaking the world record, and I believe in my potential", said Liu Xiang. "I am only 21 years old. Generally, an athlete makes career height at the age of 25".
Liu Xiang equalized the world record of 12.91 seconds at the Athens Olympic Games, also setting up a new Olympic Games record.
Today's Top News
Top Sports News

China overtakes US as top investment destination




World press praises China's power transfer




China, Kyrgyzstan tap co-operation potential




Student takes tuition trouble to court




China finance chiefs to join G7 meeting




China to succeed in macroeconomic control