China overtakes US as top investment destination
(Agencies)
Updated: 2004-09-23 14:11
China overtook the United States as a top global destination for foreign direct investment (FDI) in 2003 while the Asia-Pacific region attracted more investment than any other developing region, a UN report said.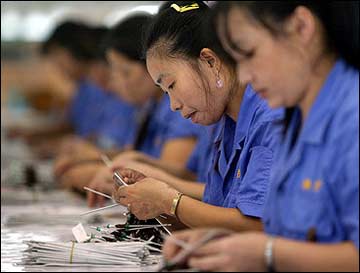 Workers on the assembly line manufacture wigs and other hair products for export in Guangan, in southwest China's Sichuan province. China overtook the United States as a top global destination for foreign direct investment in 2003. [AFP/File]
China's strong manufacturing industry helped the country attract FDI last year worth US$53.5 billion, compared with 52.7 billion in 2002, the United Nations Conference on Trade and Development (UNCTAD) said in its annual report on investment flows.
Meanwhile, France and the United States ranked second and the third in FDI inflow last year.
Foreign investment in the United States, traditionally the largest recipient of such money, plunged by 53 percent last year to reach US$30 billion, the lowest level in 12 years, according to data from UNCTAD's World Investment Report 2004.
Flows to the Asia-Pacific region as a whole rebounded over the year to US$107 billion from US$94 billion in 2002 driven by strong economic growth and a better investment environment, the agency said.
China was expected to continue to attract foreign companies, analysts said.
"According to our analysis, FDI in China has not peaked although their economic growth rates have fallen," UNCTAD economist James Zhan told journalists.
The outbreak of deadly Severe Acute Respiratory Disease (SARS) only had a marginal downward effect on investment activity as Asia emerged from the decline in foreign investment it had experienced since 2001, the report noted.
"Prospects for a further rise in foreign direct investment flows to Asia and the Pacific in 2004 are promising," UNCTAD's Deputy Secretary General, Carlos Fortin, said in a statement.
But the distribution of the new wealth was uneven across the region, with most of the money -- US$72 billion -- concentrated in north-east Asia.
Flows to south-east Asia rose 27 percent to US$19 billion, while the south merely received US$6 billion in FDI.
Resource-rich central Asia recorded US$6.1 billion and US$4.1 billion flowed into the west.
The manufacturing sector remained the dominant factor that pulled investment into China, but a rise in investment in the services industry was noted elsewhere in line with the global trend, UNCTAD said.
Services, including finance, tourism, telecommunications and information technology, formed a growing proportion of foreign direct investment stock in the region -- up to 50 percent in 2002, the most recent figure available, from 43 percent in 1995, UNCTAD said.
UNCTAD said the growing tendency to shift some business activities overseas to places where labour costs are low but the workforce is skilled helped to raise the region's profile.
UNCTAD predicted China's FDI inflow will grow to US$60 billion this year, due to the country's fast growing economy and regional co-operation.
Hu Jingyan, director of the Foreign Investment Administration of China's Ministry of Commerce declined to comment on the prediction, saying this year's figure will be at least bigger than last year's.
Statistics from the ministry indicate, in the first eight months of the year, FDI inflows hit US$43 billion, up 18.77 per cent.
The United States remained the world's largest investor.
Asian companies were also growing in power and reach as investors in other regions, according to the Geneva-based agency.
China and India were joining Malaysia, South Korea and Singapore as sources of foreign direct investment, it said.
Asian firms, such as Hutchinson Whampoa of Hong Kong, Singapore's Singtel and Samsung of South Korea, again dominate the UNCTAD list of the top companies from the developing world.
UNCTAD's surveys indicate the global investment flows are expected to turn upwards this year, boosted by faster economic growth and improved corporate profitability.
Today's Top News
Top China News

China overtakes US as top investment destination




World press praises China's power transfer




China, Kyrgyzstan tap co-operation potential




Student takes tuition trouble to court




China finance chiefs to join G7 meeting




China to succeed in macroeconomic control