Skies open wider for civil-use flights
By Liu Weifeng (China Daily)
Updated: 2004-09-23 02:40
When 14-year-old Fang Haiyan and her three-year-old niece were badly scalded in a home accident, their initial hospital appointment was made for a few weeks' hence.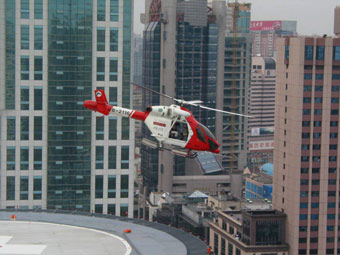 A helicopter takes off from a landing apron in Shanghai Huashan Hospital. The heliport was built for the Formula One race to be held in the city. [newsphoto]
But thanks to a new air ambulance service, travel time to the nearest hospital from their mountainous village in Liannan has been slashed from five or six hours to just one.
This meant the two children, members of the Yao ethnic minority, could be treated and discharged at Guangdong Provincial People's Hospital two weeks before they were expected to.
"It takes less than two minutes for the children to get to the operation room from the landing apron," said Zhang Lingling, an official at the hospital.
The flight was one of the first carried out by the new air ambulance service, which, in co-operation with Guangdong General Aviation Corporation, is providing quicker emergency services by flying patients around by helicopter.
Guangdong General Aviation Corporation is one of two major civil-use helicopter providers in the province. The other is the Guangdong Baiyun Aviation Corporation.
Patients and their families can make requests through the new air ambulance centre. If approved and executed, each flight will charge 15,000-20,000 yuan (US$1,810-2,410). The Fang girls' flight fees were exempted by the aviation company as a gesture of good will and as a new service promotion.
The roof-top parking apron is on the People's Hospital's main building, which is designed to have close links to the emergency room, operation room and other major medical facilities.
It is not the first time an aircraft has been used to take a person in for emergency treatment, but it is the first comprehensive air ambulance centre ever put in use, with proper medical facilities on board, a specialized parking apron and a complete managing system, said Li Zonghao, director with the medical division of the China Disaster Prevention Association.
Some 21 metres long and 21 metres wide, costing about 400,000 yuan (US$48,190), the parking apron is designed in line with international standards.
It has been filed at the Central Military Committee, and won approval from the Central & Southern Civil Aviation Administration on August 9 before operations began.
A more relaxed air control policy has also helped matters.
The northeastern, central and southern regions of China were appointed early this year by CAAC as the pilot places to explore the civil-use markets.
China was once very strict with the approval of civil helicopter flight requests partly out of public security concerns.
The use of general light planes for other than usual purposes required the submission of a request to the administration and routes had to be clearly defined.
Yet relaxation of the policy started since last year.
On May 1, 2003, the State Council and the Central Military Committee of the People's Liberation Army issued a new regulation on general aviation, lifting many of the complicated procedures and prohibitions which seriously restricted civil flight.
In November, the country's top civil aviation authority officially gave nod on the personal purchase of light planes.
On December 22, when the National Working Conference on Civil Aviation is held in Beijing, CAAC's director Yang Yuanyuan declared that procedures of examination and approval of the establishment of general aviation companies would be simplified.
"Increased demands for medical use, business flights, tourism and short-term chartered-helicopter services have meant a more open air traffic management had to be set up," said Yu Jinhui, deputy director of the air market supervision department with the Central & Southern Civil Aviation Administration.
Before its maiden flight to Guangdong Provincial People's Hospital, the Guangzhou-based Zhujiang and Nanfang hospitals, Shenzhen No 2 People's Hospital, and some other hospitals in Beijing and Shanghai had already been using helicopters.
"We were the first hospital in Guangzhou to use a helicopter on September 7, 1993," Nanfang Hospital's official Huang Zhicai told China Daily.
About 100 patients in critical conditions have recovered from dangerous illnesses thanks to dozens of flight rescues in the past 11 years, Huang said. For Nanfang and Zhujiang hospitals, nearby school playground are used as landing strips.
Because the two Guangdong hospitals are all affiliated to The First Military Medical University, they can easily operate helicopter flights.
In Guangzhou alone, many other hospitals are also planning to take the advantage of the relaxed general aviation policy.
The No 1 Hospital affiliated to Jinan University, Guangdong Provincial Health Centre for Women and Children, the No 2 Hospital affiliated to Zhongshan University, Guangzhou No 2 People's Hospital and the Guangzhou Municipal Red Cross Hospital are all in the queue to build their emergency landing aprons.
"The frequency of use and air traffic control are the two major concerns," Fang Ning, an official with the No 1 Hospital affiliated with Guangzhou Traditional Medicine University, said.
The idea of building a landing apron on top of their main building was announced seven years ago. But it is still not reality for the hospital.
Each aircraft is required to notify the air traffic administration authority every time it wants to fly. The authority must then obtain further authority from the air force authority, who has the final say.
Wu Chengkui, deputy Party secretary of the air traffic administration in charge of the middle and south regions, said limits on low altitude flights would be lowered in the years to come.
Flights below 900 metres are considered low altitude.
Last year, nearly 400 flight applications were approved, said Chen Wenyi, deputy director with the Air Traffic Management Bureau of the Central & Southern Civil Aviation Administration.
Wu said general aviation flights in public security, medical care, and some commercial purposes will be given more freedom, and this is now being discussed by the higher authorities.
Limited sky
"We are still waiting," said a source with Guangdong Baiyun Aviation Administration, referring to the materialization of the more open policy for air traffic management.
But current air traffic management can only approve part of the flight applications.
If flights coincide with local routes and times they could also be cancelled, especially during peak holiday periods.
Flight amusement parks, semi-professional and professional training institutes, aircraft producers and research institutes and even insurance companies are making up a new group.
Few general aviation corporations in China are making profits.
"I can tell you that no one is making significant profit, except the CITIC Offshore Helicopter Co Ltd," said a source with the Guangdong Baiyun General Aviation Corporation, who refused to be named.
Carrying out on-sea petroleum explorations makes CITIC lots of money. Its major businesses are offshore operations and monitoring, air travel, seaport navigation, power patrols and other commercial flights.
Today's Top News
Top China News

World press praises China's orderly power transfer




China, Kyrgyzstan tap co-operation potential




Website posting: 2 Italian hostages slain




Student takes tuition trouble to court




China to succeed in macroeconomic control




China tops investment destinations