China, Kyrgyzstan tap co-operation potential
By Meng Yan (China Daily)
Updated: 2004-09-23 00:15
Co-operation between China and Kyrgyzstan is expected to leap forward in the coming decade.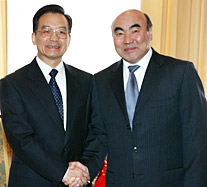 Chinese Premier Wen Jiabao (left) meets Kyrgyz President Askar Akayev, September 22, 2004. [Xinhua]

The two countries plan to work together in such fields as trade, communications, energy and mining in the next ten years, said visiting Premier Wen Jiabao during talks with Kyrgyz President Askar Akayev Wednesday.

Wen is the first Chinese premier to visit Kyrgyzstan since Premier Li Peng in 1994.

Wen said the China-Kyrgyzstan Good Neighbourly Treaty on Friendship and Co-operation, signed in 2002, and the settlement of border issues paved the way for more political trust.

Akayev said establishing and developing friendly and co-operative relations with China was his country's most significant achievement since it declared independence.

In a joint statement signed by Wen and Kyrgyz prime minister Nikolai Tanayev on Tuesday and released Wednesday, the two countries pledged to fully tap potential areas of co-operation such as politics, economy, trade, security and culture.

The two prime ministers also signed a compendium on co-operation priorities and programmes for the next ten years.

Noting that economic and trade collaboration spearheads bilateral relations, Akayev said the compendium will effectively enhance such ties.

The priorities include maintaining a constant and steady growth in trade and joint efforts on economic and technological projects.

Trade reached US$314 million last year and US$307 million in the first eight months of this year.

China and Kyrgyzstan will also work together in communications, ports, energy, agriculture, food processing, aviation, textile, science and technology, telecommunications and finance.

To that end, both countries will use joint committees on trade and economy and other co-operative mechanisms.

Both countries will move to facilitate trade, investment and other business activities and take effective measures to ensure people's personal and property safety.

At the same time, border trade will be encouraged and a consultation mechanism to promote co-operation in the border region will be created.

China and Kyrgyzstan agreed to facilitate railway, aviation and highway links and in particular renovate and open the China-Kyrgyzstan-Uzbekstan transnational highway as soon as possible.

Kyrgyz sticks to one-China policy

They will further implement a framework agreement on energy co-operation signed in 2002 and encourage Chinese enterprises to participate in the construction of oil, electricity and mineral resource projects in Kyrgyzstan.

Akayev said Kyrgyzstan will firmly adhere to the one-China policy.

The joint statement says Kyrgyzstan opposes any attempt to make "two Chinas" or "one China, one Taiwan," "Taiwan independence," or Taiwan joining any international and regional organization open only to sovereign countries. It says Kyrgyzstan will not establish official relationships with Taiwan.

At the same time, China and Kyrgyzstan will work together to crack down on terrorism, separatism and extremism including East Turkistan groups. Both agreed the fight against the forces in East Turkistan is an important component of the international anti-terrorism drive.

Wen Wednesday also met with Abdygany Erkebayevich Erkebayev, speaker of the Legislative Assembly of the Supreme Council of Kyrgyzstan and Altay Borubayev, speaker of the Assembly of People's Representative of the Supreme Council of Kyrgyzstan.

In addition, he held separate meetings with Kazakh Prime Minister Daniyal Akhmetov, Tajik Prime Minister Akil Akilov and Uzbek Prime Minister Utkur Sultanov Wednesday afternoon.

The third meeting of the Shanghai Co-operation Organization among prime ministers from the member states will be held today.




Today's Top News
Top China News

World press praises China's orderly power transfer




China, Kyrgyzstan tap co-operation potential




Website posting: 2 Italian hostages slain




Student takes tuition trouble to court




China to succeed in macroeconomic control




China tops investment destinations