Suicide bombing, fierce fighting rock Baghdad
(Agencies)
Updated: 2004-09-23 00:15
Insurgent attacks and heavy fighting rocked the Iraqi capital on Wednesday, as a suicide bomber killed at least six Iraqi civilians and wounded 54 others and U.S. aircraft and tanks raked rebel positions in the Sadr City slum.
Authorities said the suicide car bombing occurred outside a photocopy shop in western Baghdad where Iraqi National Guard applicants were readying their papers before heading to a nearby recruiting center.
Bloodied bodies, shattered glass and debris littered the street in the commercial neighborhood of Al-Jamiyah after the first explosion.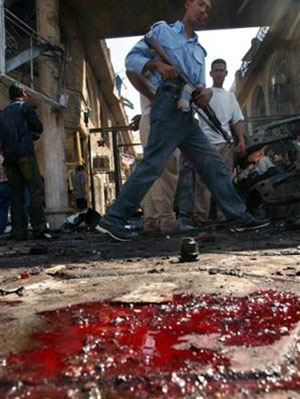 A police officer passes a pool of blood after a suicide attacker detonated a car bomb outside a photocopy shop in Al-Jamiyah, Baghdad, Iraq , where Iraqi National Guard applicants were readying their papers before heading to a nearby recruiting center, Wednesday Sept. 22, 2004. At least 6 died and 54 were wounded in the blast. [AP]


At least 13 vehicles were wrecked and the engine of the suicide car was hurled about 150 feet away.

"A man in a black Opel car drove up near the shop and detonated the explosives," said policeman Ahmed Jassem.

Human remains strewn over street

Ali Jabbar, who owns a nearby shop, helped relief workers to pick up human remains and put them into plastic bags. "I found this in the back of my pickup truck," he said, pointing to a piece of a brain in his hand.

Iraqi police and U.S. troops immediately cordoned off the area.

Interior Ministry official Col. Adnan Abdul-Rahman said the blast was caused by a suicide car bomber.

At least six people were killed and 54 wounded, said Dr. Mohammed Salaheddin of the nearby Yarmouk Hospital.

Another car bomb later shook the Mansour district of Baghdad after U.S. troops were seen moving through the area and thick black smoke could be seen rising from the area, police and witnesses said. Police said they believed there were casualties but had no details.

The bombings case as U.S. aircraft and tanks attacked Shiite militia positions in fierce fighting in Sadr City, killing 10 people and injuring 92 others, hospital officials said.

U.S. forces target Sadr City insurgents

The fighting came as U.S. and Iraqi forces searched for weapons caches and targeted "pockets of insurgents and terrorists" in the Shiite stronghold, an east Baghdad slum, the military said in a statement.

"The intent is to provide security for the people of Thawra so we can get back to the business of reconstruction," said 1st Cavalry Division commander Maj. Gen. Peter Chiarelli in a written statement. Thawra is an old name for Sadr City.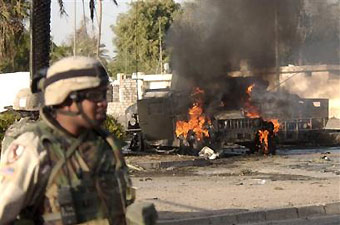 Two U.S. military humvees are seen burning after a car bomb exploded in al Mansour neighborhood of Baghdad, Iraq, Wednesday Sept. 22, 2004. Eyewitnesses said that U.S. soldiers were injured in the attack. [AP]


An Associated Press reporter near the scene said a U.S. C-130 gunship raked one area with heavy fire after rebels loyal to radical Shiite cleric Muqtada al-Sadr opened fire with rocket-propelled grenades.

U.S warplanes and Apache helicopter gunships also carried out strikes. One helicopter was hit by groundfire but managed to return to its base, and one tank was disabled by a roadside bomb. There were no immediate reports of any injuries to U.S. forces.

Ten people died and 92 were injured, said Qassim Saddam of Imam Ali Hospital in Sadr City.

At one point, U.S. troops took to the slum rooftops to chase down five rebels armed with assault rifles.

Later in the day, soldiers occupied the Jolan Club, a large enclosed sports complex with soccer fields and basketball courts that the Americans believed was being used to store weapons. No arms were found, however.

Slum nearly deserted amid continued fighting

Large swathes of Sadr City were nearly deserted by late morning, with most stores shuttered down. Explosions and machine gun fire could still be heard by lunchtime and American helicopter gunships continued to fly low over the area.

Fighters from al-Sadr's al-Mahdi Army, some concealing their faces with Arab head gear, were crouching behind heavy machine-guns in some areas, firing toward American positions. Small bands of militiamen, mostly in their late teens or early 20s, took cover behind walls at street corners.

On Tuesday, U.S. planes also struck in Sadr City in an attempt to destroy roadside bombs and mines strewn across the slum's streets. Al-Sadr officials said the strikes destroyed the homes of civilians.

The U.S. military on Tuesday also announced the deaths of two U.S. Marines from the 1rst Marine Expeditionary Force, saying they died in separate attacks west of Baghdad. One of the Marines was killed in action Monday, while the other died of injuries suffered in an earlier attack, the military said in a statement. No further details were provided.

Also on Tuesday, a car bomb wounded four soldiers in a military convoy near Baghdad's airport.




Today's Top News
Top World News

FM spokesman: UN is not a "board of directors"




World press praises China's power transfer




Wen: China supports Russia to fight terrors




Yukos called to honour oil commitments




Website: 2nd US hostage killed in Iraq




US Fed raises rates for third time