Kate Moss, pygmy super model

(Agencies)
Updated: 2004-09-22 14:01
Just 5ft 7in tall 每 a pygmy in catwalk terms 每 and with a lazy eye, Kate Moss may not at first seem obvious supermodel fodder. But in the course of her 13-year career the waif-like girl from Croydon has revolutionised the international modelling scene.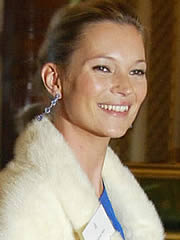 Kate Moss is a living legend of the fashion field. [baidu]
Born on January 16, 1974, she was first spotted by model agency boss Sarah Doukas as a 14-year-old at JFK airport, and started her modelling career doing unremarkable shoots for teenage magazines.
Photographer Corinne Day, one of the key players of the early Nineties "grunge" period, spotted her potential and snapped the adolescent topless and wearing a native American headdress. The picture was published on the front cover of style bible The Face, and a Generation X icon was born.
More than a decade on, Kate's career has never gone through a fallow period. Unlike many of her contemporaries who lost their hipness through over-exposure or as a result of the fashion industry's constant need to reinvent itself, Kate has always been at the cutting edge of style.
Today she is Britain's wealthiest model, with an estimated fortune of nearly 115 million. And a selection of hip boyfriends 每 including Mario Sorrenti, who shot her in the nude for the Calvin Klein campaign, Johnny Depp, millionaire model and photographer Dan Macmillan and Lemonhead Evan Dando 每 and even hipper friends including Noel Gallagher, Jude Law, Donatella Versace and Stella McCartney, has ensured the supermodel has continued to top hip party guestlists.
In 1998 Kate made headlines when it was revealed she had checked into celeb-friendly rehab centre The Priory, in London, after suffering what was termed "exhaustion". Although she gave up modelling briefly, saying: "I quit because I thought, 'I hate it'. It's mind-numbing, repeating yourself like Groundhog Day", she was persuaded back onto the catwalks a couple of months later.
As the millennium began, she cut off her trademark long hair 每 something she claimed she would never do 每 and emerged with a peroxide blonde wedge. Suddenly all the top designers were clamouring to use her in their ad campaigns. In the end, designer-of-the-moment Tom Ford landed her for the Gucci label.
Since splitting with Johnny Depp in May 1998, Kate has been in a number of relationships, including with Jefferson Hack, the former editor of style magazine Dazed & Confused, with whom she had a child. Lila Grace was born in September 2002 but by early 2004 her parents Kate and Jefferson decided to call it a day on their relationship.
| | |
| --- | --- |
| | |
| Jude backstage at ex-wife's fashion show | |

| | |
| --- | --- |
| | |
| Lions' love | |

| | |
| --- | --- |
| | |
| Jackie Chan's 'New Police Story' promotes in Beijing | |
Today's Top News
Top Life News

FM spokesman: UN is not a "board of directors"




Wen: China supports Russia to fight terrors




Yukos called to honour oil commitments




Website: 2nd US hostage killed in Iraq




Border issue solved with Kyrgyzstan




US Fed raises rates for third time