US Fed raises rates for third time
(Agencies)
Updated: 2004-09-22 07:49
The U.S. Federal Reserve on Tuesday raised interest rates for the third time this year by a quarter of a percentage point and said the economy was regaining momentum, signaling at least one more to come.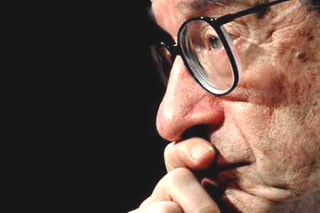 The U.S. Federal Reserve raised interest rates on September 21, 2004 by a quarter percentage point as expected, the third straight rise in a bid to keep a lid on inflation pressures despite some signs of economic softness. The unanimous decision by the policy-setting Federal Open Market Committee moves the benchmark federal funds rate -- which influences credit costs throughout the economy -- to 1.75 percent. The Fed lifted rates by matching amounts in June and at its last policy session on Aug. 10, spelling an end to a lengthy period of super-low rates. Fed Chairman Alan Greenspan is seen in this April 21 file photo. [Reuters]

The widely expected and unanimous decision by the policy-setting Federal Open Market Committee moves the benchmark federal funds rate -- which influences credit costs throughout the economy -- to 1.75 percent from 1.5 percent.

The central bank lifted short-term rates by matching amounts at its policy sessions in June and on Aug. 10, ending a long period of super-low borrowing costs.

Many economists expect a fourth rise at the next meeting on Nov. 10, about a week after the U.S. presidential elections.

"After moderating earlier this year partly in response to the substantial rise in energy prices, output growth appears to have regained some traction, and labor market conditions have improved modestly," the Fed said in a statement outlining its decision, which also increased the largely symbolic discount rate to 2.75 percent.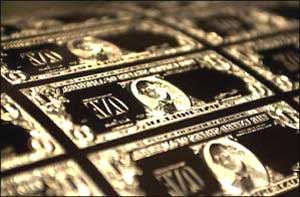 A one dollar chrome printing plate. The dollar traded mostly lower, failing to get a lift from a Federal Reserve quarter-point rate hike that had been widely expected and priced into the market.[AFP/file]

The Fed also said inflation pressures and expectations had eased despite a rise in energy costs.

It said risks to the U.S. economy remained balanced between weaker growth and higher prices and repeated a pledge to undertake a "measured" course of rate increases.

KEEPING OPTIONS OPEN

Analysts said the Fed, with its carefully couched language, seemed to be keeping its options open on whether to steadily ratchet rates up or take a pause if economic data weaken.

"This is a story that's being written as the economy goes along as far as how fast the Fed will raise rates," said economist William Hornbarger of A.G. Edwards and Sons Inc. in St. Louis, Mo. "They've indicated they will keep raising rates; the question is how quickly."

A Reuters poll of 22 top Wall Street bond dealers found all agreed the Fed would boost interest rates a further quarter percentage point in November.

At that point, 15 dealers think the Fed will hold at 2 percent through the end of the year while seven predicted another quarter percentage point hike at the eighth and final policy-setting session on Dec. 14.

The picture was muddier for next year, with bond dealers estimating the fed funds rate could be anywhere between 2 percent and 4.5 percent when 2005 ends -- reflecting widely divergent opinions about growth prospects and inflation risks.

One concern this year is that a soft pace of job creation and higher energy prices have put strain on consumers, who were the main support for a teetering U.S. economy in the slow recovery from the 2001 recession. Retail sales fell in August.

Some economists believe the softness may persist and that the rate-rise cycle is near an end. However, the Fed insists the economy is getting its footing after a "soft patch" that began mid-year.

Financial markets were unsure how to interpret the Fed's statement. Some saw it as a signal that several more rate rises lay ahead but others took it as reassurance that the path to higher rates would be gradual.

Short-term Treasury debt prices weakened as participants saw a higher likelihood of a hike in November, but long-term bond prices gained on Fed assurances that inflation was subdued -- language unlikely to presage aggressive rate increases.

Stock prices strengthened, buoyed by the reference to output growth regaining traction -- words Fed Chairman Alan Greenspan offered to Congress earlier this month.

The Dow Jones industrial average closed up 40.04 points, or 0.39 percent, at 10,244.93. The technology-laced Nasdaq Composite Index finished up 13.11 points, or 0.69 percent, at 1,921.18.

This was the final policy meeting before the Nov. 2 presidential vote.

Democratic and Republican campaigns have presented starkly contrasting views of the economy's health.

President Bush says his administration's tax cuts lifted the United States out of economic doldrums that began before he came to power in 2001.

Democratic presidential contender Sen. John Kerry says Bush's policies have failed to spur hiring and have fueled record budget deficits that imperil the future.

The Bush administration's top economic official, Treasury Secretary John Snow, was unfazed by the Fed's decision, telling reporters: "Increases in discount rates are consistent with a recovering economy."

The Fed has been trying to bring official interest rates to a level seen as normal or "neutral" -- one that neither hinders expansion nor spurs it enough to trigger inflation pressure. Exactly where that lies remains open to debate.

Private-sector economists argue a neutral rate could be around 3 percent but Greenspan has said only that the Fed won't know where the right level lies "until we get there."




Today's Top News
Top World News

Rally marks 55th birthday of CPPCC




Wen: China supports Russia to fight terrors




Website: 2nd US hostage killed in Iraq




Livestock exports to Mideast resume




Border issue solved with Kyrgyzstan




US Fed raises rates for third time