Website: 2nd US hostage killed in Iraq
(Agencies)
Updated: 2004-09-22 07:31
An al-Qaida-linked group led by Abu Musab al-Zarqawi claimed Tuesday to have killed the second of two American hostages ! back-to-back slayings that have notched up the Jordanian militant's ruthless campaign of terror.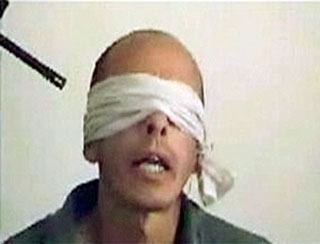 A file photograph shows American hostage Jack Hensley from a video posted on the Internet by an Islamist website on September 18, 2004. A militant group headed by al Qaeda ally Abu Musab al-Zarqawi has killed an American captive in Iraq after the lapse of a 24-hour deadline on September 21, 2004, a statement posted on the Internet and an Arabic channel said. The Qatar-based Al Jazeera said a statement announcing the killing of American Jack Hensley, 48, by the Tawhid and Jihad group was posted on the Internet. It gave no further details. [Reuters]
The claim, posted on an an Islamic Web site, could not immediately be verified.
Al-Zarqawi's group, Tawhid and Jihad, kidnapped two Americans ! Jack Hensley and Eugene Armstrong ! and Briton Kenneth Bigley on Thursday from a home that the three civil engineers shared in an upscale Baghdad neighborhood. Al-Zarqawi beheaded Armstrong, and the militants on Monday posted a gruesome video of the 52-year-old man's death.
The new posting followed the passing of the militants' 24-hour deadline for the release of all Iraqi women from prison, and after anguished relatives in the United States and Britain begged for the lives of Bigley, 62, and Hensley, who would have marked his 49th birthday Wednesday.
"We do not have confirmation as of now that the body that has been found is Jack Hensley. We are still hopeful at this time that Jack Hensley is still with us," Hensley's wife, Pati, said in a prepared statement read by family spokesman Jack Haley outside the family's home in Marietta, Ga.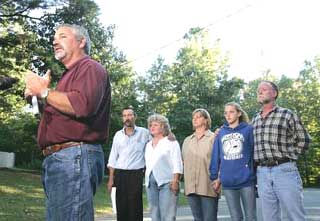 Hensley family spokesperson Jake Haley, left foreground, talks to members of the media in front of the home of American hostage Jack Hensley, in Marietta, Ga., Tuesday, Sept. 21, 2004. Hensley was being held hostage in Iraq. Behind Haley comforting each other are friends of the family, from left, Pat Cochran, Gwen Harley, Collen Cole, Chelsea Cole and Ken Cole. [AP]

"The nation's zealous sons slaughtered the second American hostage after the end of the deadline," the first statement said. It was signed with the pseudonym Abu Maysara al-Iraqi, the name usually used on statements from al-Zarqawi's group. Claims on this Web site have proven to be accurate in the past.

The brief statement did not give the name of the hostage killed.

Several hours passed on Tuesday after the initial announcement with the promised video proof failing to appear. On Monday, by contrast, the video of Armstrong's killing was posted within an hour of the initial statement claiming he was dead.

Late Tuesday, an expanded version of the statement saying a second American had been killed appeared on a different Web site and warned that Bigley would be the next to die. It did not contain any new deadline, and its authenticity was not known.

Tawhid and Jihad ! Arabic for "Monotheism and Holy War" ! has claimed responsibility for killing at least seven hostages, including another American, Nicholas Berg, who was abducted in April. The group has also said it is behind a number of bombings and gun attacks.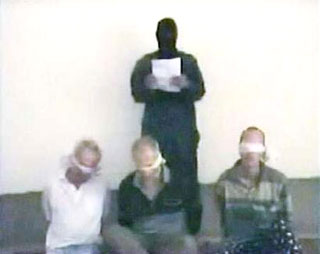 Hostages are seen in this video posted on the Internet by an Islamist website, September 18, 2004. A deadline set by militants who have threatened to behead two Americans and a Briton seized in Iraq was due to expire on September 20, 2004, and more than two dozen other hostages were also facing death unless rebel demands were met. The hostages are said to be Americans Eugene Armstrong (C) and Jack Hensley (R) and Briton Kenneth Bigley. [Reuters]
A host of militant groups have used kidnappings and bombings as their signature weapons in a blood-soaked campaign to undermine interim Prime Minister Ayad Allawi's government and force the United States and its allies out of Iraq. The violence has already persuaded companies to leave Iraq, hindered foreign investment, led firms to drop out of aid projects, restricted activities to relatively safe areas and forced major expenditures on security.
The violence continued unabated Tuesday. A car bomb wounded four U.S. soldiers on the road to Baghdad's airport and two Marines were reported killed in earlier attacks west of the capital, underscoring the inability of American forces to control key parts of Iraq 17 months after starting operations here.
President Bush defended his decision to invade Iraq, telling a subdued U.N. General Assembly session Tuesday that the war launched without U.N. approval delivered the Iraqi people from "an outlawed dictator."
On the sidelines of the meetings, Bush told Allawi, "We will not allow these thugs and terrorists to decide your fate and to decide our fate. "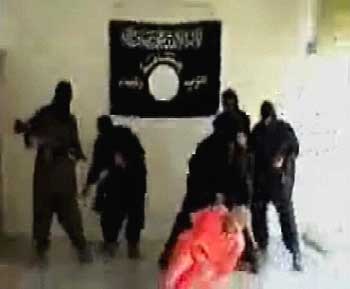 A video grab image on an Islamist internet site shows American hostage Eugene Armstrong prior to his execution September 20, 2004. [Reuters]

Allawi said: "The barbaric action of yesterday is really unbelievable."

Al-Zarqawi, standing alongside four other masked militants clad in black, personally cut off Armstrong's head, the CIA confirmed after analyzing his voice on Monday's footage.

Armstrong's body was discovered only blocks from where he lived, officials and witnesses said.

Rick Gamber, Armstrong's cousin, told NBC's "Today Show" that the family doesn't want revenge.

"Our family feels a great deal of grief," he said. "We hope the criminals are brought to justice, but we certainly don't want people to overreact and do something foolish."

In a video posted Saturday, Tawhid and Jihad had threatened to kill the three men unless Iraqi women were released from two U.S.-controlled prisons, Abu Ghraib and Umm Qasr.

Abu Ghraib is the prison where American soldiers were photographed sexually humiliating male prisoners, raising fears about the safety of women detainees.

In Monday's video, al-Zarqawi announced that Tawhid and Jihad was taking revenge for female Iraqi prisoners and called Bush "a dog."

The U.S. military says women are not held at either facility but has acknowledged it is holding two female "security prisoners" elsewhere. They are Dr. Rihab Rashid Taha, a scientist who became known as "Dr. Germ" for helping Iraq make weapons out of anthrax, and Huda Salih Mahdi Ammash, a biotech researcher known as "Mrs. Anthrax."

Sheik Abdul-Sattar Abdul-Jabbar, a member of the Association of Muslim Scholars, conservative Iraqi clerics who oppose the U.S. presence in Iraq but have interceded in the past to win the release of foreign hostages, questioned the claim of only two female prisoners in U.S. and British custody.

Abdul-Jabbar told Al-Jazeera pan-Arab satellite television there were "tens, perhaps hundreds of Iraqi women prisoners in the occupation's jail that were supposed to be released before this tragedy."

In London, Bigley's son urged British Prime Minister Tony Blair to meet the captors' demands.

"I ask Tony Blair personally to consider the amount of bloodshed already suffered," Craig Bigley said in a videotaped statement. "Please meet the demands and release my father ! two women for two men. ... Only you can save him now."

Blair called the family Tuesday afternoon, but a British Foreign Office spokesman said the government would not give in to the kidnappers.

Foreign Office official Dean McLoughlin later went on Arab television station Al-Arabiya to say "not even one" female prisoner was under Britain's control.

U.N. Secretary-General Kofi Annan condemned the taking and killing of hostages in Iraq. But he also said Iraqi prisoners had been disgracefully abused, an implicit criticism of the U.S. treatment of detainees at Abu Ghraib.

"No one is above the law," Annan said. "Again and again, we see fundamental laws shamelessly disregarded ! those that ordain respect for innocent life, for civilians, for the vulnerable ! especially children."

More than 130 foreigners have been kidnapped in Iraq, and at least 26 of them have been killed. Many more Iraqis have also been seized in the chaos since Saddam Hussein was ousted last year, in many cases for ransom.

The Turkish VINSAN construction company announced Tuesday it was bowing to the demands of militants and halting operations in Iraq in a bid to save the lives of 10 kidnapped Turkish employees.

Another Turkish hostage, seized Aug. 5, was released after his company, Atahan Lojistik International, withdrew from Iraq, the Turkish Foreign Ministry said. Tahsin Top's abductors had also demanded a $45,000 ransom. It was not clear if money was paid.

But Turkish state TRT television reported the body of another Turk, identified as Akar Besir, was found early Tuesday near Mosul. The station said Besir was employed as a driver for a firm working for the U.S. military and was kidnapped on Saturday.




Today's Top News
Top World News

Rally marks 55th birthday of CPPCC




Wen: China supports Russia to fight terrors




Website: 2nd US hostage killed in Iraq




Livestock exports to Mideast resume




Border issue solved with Kyrgyzstan




US Fed raises rates for third time