Livestock exports to Mideast resume
By Zhao Huanxin (China Daily)
Updated: 2004-09-22 01:00
After an eight-year impasse, half a million Chinese live cattle and sheep will make their way to Jordan in 2004.
"The first batch of the livestock -- 42,525 head of sheep from Inner Mongolia and 1,800 head of cattle from Hebei Province -- are moving towards Jordan today," Tong Jingren, an official with Qinhuangdao quarantine agency in Hebei, told China Daily yesterday.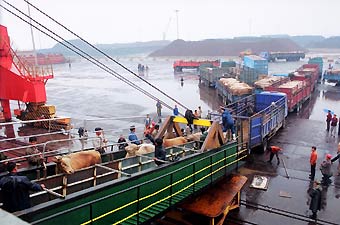 Cattles for exports are loaded into a cargo in Qinhuangdao, northern China's Hebei Province Tuesday. Nearly half a million livestocks will be exported to Jordan after a 8-year pause.[newsphoto]


It is the first time since 1996 that China resumed exports of sheep to the Mideast, said Xia Hongmin, a division director of the General Administration of Quality Supervision and Inspection and Quarantine.

After exporting 1.5 million head of sheep to the Mideast in 13 years since 1983, China saw livestock trade suspended in 1996 because of "price and market" reasons, said a statement from the State quarantine agency.

Xia said the resumption of livestock exports is of strategic importance to China.

Quarantine and quality control authorities in the livestock source regions -- Inner Mongolia Autonomous Region and Hebei Province -- have made every effort to ensure the safety of the exports, he said.

With its high quality livestock, China is eying the vast Mideast market, which imports 20 million head of cattle and sheep a year, according to sources with Xia's agency.

For importer Ahmad Ghosheh, importing Chinese livestock was a win-win decision.

"We are importing Chinese products because they are of top-class quality, and the animals are in good health and environmental conditions," said Ghosheh, director of the Hijazi & Ghousheh (Qinhuangdao) Livestock Development Co.

The Jordanian company was launched in Qinhuangdao in July this year.

"Through our contacts in other Mideast countries, we will hopefully supply Chinese livestock to regions outside Jordan," Ghosheh said in a telephone interview.

This year the company plans to import 500,000 cattle and sheep from China and ship 1.2 million head next year to the Mideast, he said.

Tong confirmed another shipment of 5,000 head of live cattle and 100,000 head of sheep will leave for Jordan next month.

The value of export to Jordan is not immediately available.

A spokesman of the Jordan embassy in Beijing yesterday said the livestock deal will help enhance bilateral trade, which will contribute to the good relations between the two countries.

China's cattle exports in the first six months of the year paled in comparison with the Jordan trade.

Between January and June, China exported 25,100 head of live cattle, an increase of 6.4 per cent year on year, indicated statistics from the Ministry of Agriculture.

Nearly 92 per cent of the exports were headed to the Hong Kong Special Administrative Region, according to a statement from the ministry's information centre.

With regard to sheep, the centre said China exported 3.31 million head, a jump of 73 per cent from the first half of last year.




Today's Top News
Top China News

Watchdog to intensify fight on corruption




Premier Wen leaves for Kyrgyzstan, Russia




Man arrested for stabbing 25 pupils




Jiang: Hu's takeover natural and convincing




Video shows beheading of American hostage




Storm death toll rises to 622 in Haiti