US, British hostages face beheading in Iraq
(Agencies)
Updated: 2004-09-21 15:20
Militants led by Washington's top foe in Iraq said they would kill an American and a Briton on Tuesday unless their demands were met, a day after they released footage showing them severing the head of another U.S. hostage.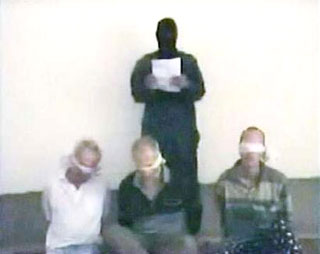 Hostages are seen in this video posted on the Internet by an Islamist website, September 18, 2004. A deadline set by militants who have threatened to behead two Americans and a Briton seized in Iraq was due to expire on September 20, 2004, and more than two dozen other hostages were also facing death unless rebel demands were met. The hostages are said to be Americans Eugene Armstrong (C) and Jack Hensley (R) and Briton Kenneth Bigley. [Reuters]

The video footage shows U.S. contractor Eugene Armstrong sitting blindfolded on the floor in an orange jumpsuit, with black-clad hooded gunmen standing behind him. Armstrong rocks back and forth as a militant reads a statement.

Then one of the men grabs him and saws off his head with a knife.

Armstrong was seized in Baghdad on Thursday along with fellow American Jack Hensley and Briton Kenneth Bigley.

President Bush, in comments made before the release of the video on an Islamist Web site on Monday, said the United States would not negotiate and would stay on the offensive.

"They will behead people in order to shake our will. These people are ideologues of hatred," Bush told a campaign rally.

"You cannot negotiate with these people," he said. "We will stay on the offensive against them."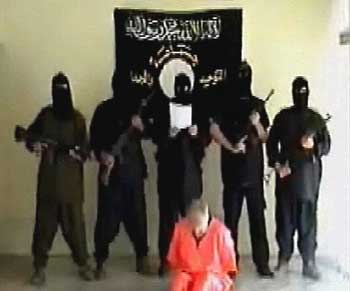 A video grab image on an Islamist internet site shows American hostage Eugene Armstrong prior to his execution September 20, 2004. [Reuters]

Negotiations to save the two hostages are made even more unlikely by the very nature of the demands by the Tawhid and Jihad group led by al Qaeda ally Abu Musab al-Zarqawi.

The group said in the video of Armstrong's killing it would behead the other two hostages within 24 hours unless female inmates were released from the Abu Ghraib and Umm Qasr jails.

The U.S. military says it does not hold any female prisoners in either of those two jails, and that only two women are in U.S. detention in Iraq. The two, dubbed "Mrs Anthrax" and "Dr Germ" by U.S. forces, are accused of working on Saddam Hussein's weapons programs and held at a secret high-security camp.

Washington says Zarqawi, a Jordanian, is its number one enemy in Iraq. His group has claimed responsibility for most of the bloodiest suicide attacks in Iraq since Saddam was overthrown. Zarqawi's group also beheaded U.S. telecoms engineer Nicholas Berg in May and South Korean driver Kim Sun-il in June.

The United States has offered $25 million for information leading to the death or capture of Zarqawi, and has launched a series of air strikes on the rebel-held city of Falluja, west of Baghdad, targeting suspected hideouts used by his followers.

PLEAS BY FAMILIES

Hensley's wife Patty, in an interview with CNN, pleaded for his release for the sake of their 13-year-old daughter.


A combination photograph made from two video grab images show American hostages, Eugene Armstrong (L) and Jack Hensley (R), taken from a video posted on the Internet by an Islamist website on September 18, 2004. A message posted on an Islamist Web site said on September 20, 2004 the militant group of al Qaeda ally Abu Musab al-Zarqawi had killed one of two Americans it was holding hostage, but the report could not be immediately verified. The message was signed by Abu Maysarah al-Iraqi, a pseudonym for a contributor who has in the past posted messages on the Internet for the Tawhid and Jihad group, which set a 48-hour deadline on Saturday to kill the two Americans and a Briton [Reuters]

"I would plead with them to please realize this man does not deserve this fate," she said. "I want them to understand that he has no political value whatsoever. He was just there doing a service for the Iraqi people."

Bigley's family appealed to British Prime Minister Tony Blair for help.

His brother Philip said in a statement broadcast on Sky News television: "If nothing is done then the two remaining hostages will die by the most horrific means."

"It is the prime minister who has the power to save Ken's life. Prime minister, we as a family are begging you, please help us," he said, echoing a similar plea by Bigley's son, Craig.

"I ask Tony Blair personally to consider the amount of bloodshed already suffered," Craig said in a statement broadcast on the BBC. "Only you can save him now. You have children and you will understand how I feel at this time."

A U.S. official in Washington said Armstrong's body had been recovered and identified.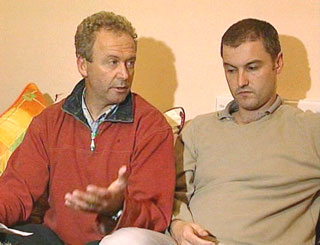 A video grab from Independent Television News shows Craig Bigley (L), the son of British hostage Kenneth Bigley who is being threatened with execution in Iraq, appealing to Britain's Prime Minister Tony Blair to meet the demands of his kidnappers and save his life, September 21, 2004. Bigley was being held hostage along with two Americans Jack Hensley and Eugene Armstrong by the Tawhid and Jihad group headed by al Qaeda ally Abu Musab al-Zarqawi, which seized the three Westerners from their home last Thursday. Armstrong was beheaded in a gruesome murder shown on the Internet video over night. [Reuters]

In the video showing his killing, one of the militants read a lengthy, rambling statement ridiculing Bush and promising Iraqi women their honor would be protected.

"Oh, you Christian dog Bush, stop your arrogance ... The mujahideen will give America a taste of the degradation you have inflicted on the Iraqi people," the statement said.

HOSTAGE CRISIS

More than a dozen hostages are being held in Iraq and threatened with death unless their captors' demands are met.

Two French journalists were seized a month ago, and two female Italian aid workers were kidnapped in broad daylight in central Baghdad earlier this month.

A statement purportedly from the group holding the Frenchmen said at the weekend they were no longer captives but had agreed to stay with the group for some time to cover its activities.

French President Jacques Chirac issued a fresh plea on Monday for their release. He said his reaction to the killing of Armstrong was one of "horror and incomprehension."

"Of course I think of the two French hostages and their Syrian companion -- two men who were only doing their job, and doing no harm to anyone," he said at the United Nations.

"I appeal solemnly again to justice and humanity, so that our two journalists and their companion be returned to freedom."

There has been no word on the fate of the Italians. An Internet statement purportedly from Zarqawi's group said on Monday that it was not holding them.

Another guerrilla group has threatened to kill 10 workers from a U.S.-Turkish firm unless their company stopped doing business in Iraq within three days. Most of the workers seized are believed to be Turkish.




Today's Top News
Top World News

Watchdog to intensify fight on corruption




Premier Wen leaves for Kyrgyzstan, Russia




Man arrested for stabbing 25 pupils




Jiang: Hu's takeover natural and convincing




Video shows beheading of American hostage




Storm death toll rises to 622 in Haiti