Storm death toll rises to 622 in Haiti
(Agencies)
Updated: 2004-09-21 14:09
The death toll from a tropical storm that devastated parts of Haiti rose to 622 late Monday as search crews recovered hundreds of bodies carried away by raging weekend floods or buried by mud or the ruins of their homes, officials said.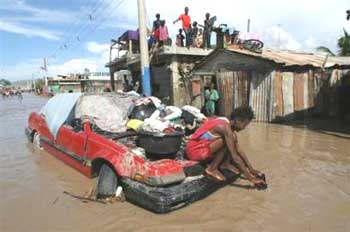 Haitian families stay outside of their houses after flooding and mudslides in Gonaives, Haiti, Monday, Sept. 20, 2004. Receding floodwaters raged through neighborhoods of Haiti's third largest city, dragging people from their homes and forcing survivors to spend the night in trees, atop cars and on rooftops following Tropical Storm Jeanne. [AP]

The bodies of at least 500 people killed by Tropical Storm Jeanne were filling morgues in Gonaives, according to Toussaint Kongo-Doudou, a spokesman for the U.N. mission. Fifty-six were killed in northern Port-de-Paix and 17 died in the nearby town of Terre Neuve, officials said.

"The water is high. As it goes down, we expect to find more bodies," Kongo-Doudou said.

Dieufort Deslorges, a spokesman for the government civil protection agency, reported another 49 bodies recovered in other villages and towns, most in the northwest.

"We expect to find dozens more bodies, especially in Gonaives, as ... floodwaters recede," Deslorges told The Associated Press.

Two days after lashing Haiti, Jeanne regained hurricane strength over the open Atlantic on Monday but posed no immediate threat to land. Since it developed last week, Jeanne has been blamed for at least 647 deaths, including 18 in the Dominican Republic and seven in Puerto Rico.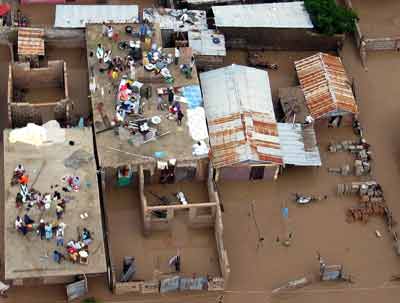 The northern Haitian city of Gonaives is seen flooded on September 19, 2004 after Hurricane Jeanne passed through.[Reuters]

"I lost my kids and there's nothing I can do," said Jean Estimable, whose 2-year-old daughter was killed and another of his five children was missing and presumed dead. "All I have is complete despair and the clothes I'm wearing," he said, pointing to a floral dress and ripped pants borrowed from a neighbor.

Many of the bodies stacked in Gonaives' flood-damaged General Hospital were children.

In Gonaives, a city of about a quarter million, people waded through ankle-deep mud outside the mayor's office, where workers were shoveling out mud and doctors treated the wounded.

Deslorges said the town's situation as "catastrophic." He said survivors "need everything from potable water to food, clothing, medication and disinfectants."

A school bus lay smashed against a utility pole and waterlines up to 10-feet high showed the passage of the storm waters, which turned some roads into fast-flowing rivers. Floodwaters destroyed homes and crops in the Artibonite region that is Haiti's breadbasket.

Katya Silme, 18, said she, her mother and six siblings spent the night in a tree because their house was flooded.

"The river destroyed my house completely, and now we have nothing. We have not eaten anything since the floods," she said.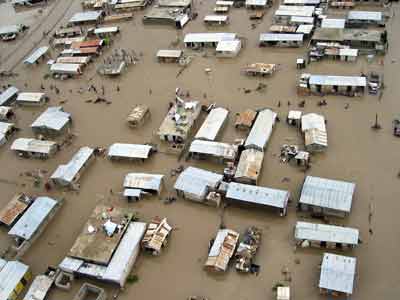 The northern Haitian city of Gonaives is seen flooded on September 19, 2004 after Hurricane Jeanne passed through.[Reuters]

Silme said she saw neighbors swept away in the waters Saturday. As she spoke, two dead children lay on a nearby porch, their faces covered with cloths.

Ronald Jean-Marie, 38, said the waters tore down the concrete walls of his home in Raboteau slum and that his neighbors, a woman and her two young children, disappeared in the fast-moving current.

The storm came four months after devastating floods along the southern border of Haiti and neighboring Dominican Republic. Some 1,700 bodies were recovered and 1,600 more were missing and presumed dead.

Floods are particularly devastating in Haiti, the poorest country in the Americas, because it is almost completely deforested, leaving few roots to hold back rushing waters or mudslides.

Gonaives also suffered fighting during the February rebellion that led to the ouster of President Jean-Bertrand Aristide and left an estimated 300 dead.

Argentine troops who are among more than 3,000 U.N. peacekeepers in Haiti treated at least 150 people injured by the floods in Gonaives, mostly for cuts on feet and legs, said Lt. Cmdr. Emilio Vera.

One man stood outside the flooded base used by the troops and asked soldiers to remove 11 bodies that were floating in his house, including four brothers and a sister.

"I would like to see if the soldiers could do something about these bodies," said Jean-Saint Manus, a 30-year-old student. "The door was closed. Everybody was trapped inside."

Equipment including the X-ray machine was covered with mud at Gonaives' General Hospital, said Dr. Pierre-Marie Dieudonne, a doctor with the Catholic agency Caritas. He said there was a great need for antibiotics, food and water.

Three trucks carrying Red Cross relief supplies from tents to blankets rolled in Monday, but two were mobbed by people who grabbed blankets and towels. U.N. troops stood by watching. Only one truck arrived intact with tents at the mayor's office.

People tripped over each other to grab tiny bags of water thrown from a Red Cross truck in front of City Hall.

"Everyone is desperate," said Pelissier Heber of the Artibonite Chamber of Commerce. "The international community is not doing anything so there's a general panic. The population is really mad because they were expecting more from the United Nations."

Interim Prime Minister Gerard Latortue toured some flooded areas Sunday and declared Gonaives a disaster area, calling for international aid. The U.S. Embassy announced $60,000 in immediate relief.

At 11 p.m., Jeanne was about 405 miles east of Great Abaco Island in the Bahamas, with winds near 85 mph, moving northeast at about 7 mph.

Meanwhile, Hurricane Karl and Tropical Storm Lisa remained far out in the Atlantic and were not immediate threats to land. Karl's sustained winds diminished to 120 mph, making it a Category 3 hurricane. Lisa had winds of 60 mph.





Today's Top News
Top World News

Watchdog to intensify fight on corruption




Man arrested for stabbing 25 pupils




Jiang: Hu's takeover natural and convincing




Video shows beheading of American hostage




Premier Wen meets Macao chief Edmund Ho




Storm death toll rises to 622 in Haiti