Hu calls for developing socialist democracy
(Xinhua)
Updated: 2004-09-21 13:59
President Hu Jintao said in Beijing Tuesday that China would give full play to the Chinese People's Political Consultative Conference (CPPCC), China's top advisory body, for injecting impetus to the causes of the people and the Party.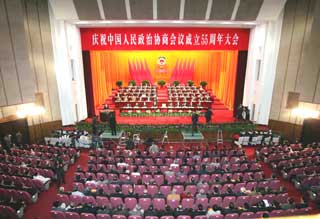 A grand rally is held in Beijing September 21 to mark the 55th anniversary of the CPPCC founding. [Xinhua]
Hu made the remarks when addressing a rally marking the 55th founding anniversary of CPPCC, the country's most influential and broad-based advisory institution.
Hu, also general secretary of the Central Committee of the Communist Party of China (CPC), pledged to give full play to CPPCC as a patriotic united front organization for the united front has always been a treasure for pushing forward the causes of the Party and the people.
"It is a natural requirement to develop the most broad-based patriotic united front and realize a great solidarity among all political parties, communities, ethnic groups, social groups and all China-loving people under the leadership of CPC," Hu said.
China would make better use of CPPCC as an important form of carrying out socialist democracy in the country's political life, and constantly develop socialist democratic politics and promote socialist political civilization, said the president.
He urged to firmly grasp the two major themes of solidarity and democracy in the future to strive relentlessly for the realization of the central task of the Party and the state.
The president said CPPCC shoulders significant responsibility and occupies important position as the country is working hard to build itself into a well-off society.
China has managed to establish its socialist political system that adapts to its actual conditions during its long-term experience. The core of China's political system consists of the people's congress system, the CPC-led multi-party cooperation and political consultation system, and the system of regional autonomy for ethnic minority groups, he said.
The key to the development of China's socialist democratic politics is to well adhere to and develop all these systems, he said.
Today's Top News
Top China News

Watchdog to intensify fight on corruption




Jiang: Hu's takeover natural and convincing




Video shows beheading of American hostage




Premier Wen meets Macao chief Edmund Ho




Man arrested for stabbing 25 pupils




Storm death toll rises to 622 in Haiti