Ex-general wins Indonesia poll
(Agencies)
Updated: 2004-09-21 10:20
Indonesians altered their country's political landscape yesterday with early results showing a landslide victory for Susilo Bambang Yudhoyono, a retired general, in the country's first direct presidential election.
With 15.5% of the returns declared Mr Yudhoyono was leading the incumbent, Megawati Sukarnoputri, by 59% to 41%.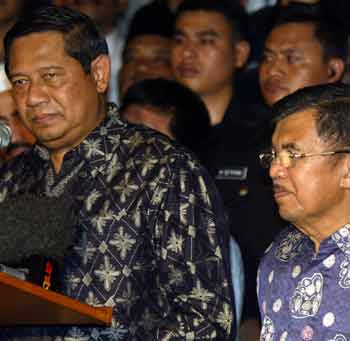 Indonesian presidential candidate Susilo Bambang Yudhoyono (R) and his vice-presidential running-mate Jusuf Kalla during a brief late night news conference at his house in Cibubur outside Jakarta on September 20, 2004. Ex-general Yudhoyono, who promises to fight terror and clean up government, headed for an overwhelming victory against incumbent Megawati Sukarnoputri in Indonesia's first direct presidential election on Monday. [Reuters]


Neither side declared victory or conceded defeat in what was a run-off between the top two finishers from July's first-round ballot, but analysts said the results were stabilising and predicted little significant change.

Two independent quick counts from representative samples of about 1,500 of the 576,000 polling stations predicted the final margin would be about 61% to 39%.

The turnout was estimated at about 80%, a little less than in the first round.

Monitors said there were a few minor instances of intimidation but voting went sufficiently smoothly across the country for the result not to be in doubt.

"We've had no reports of any serious problems so far from any of the provinces," said Glyn Ford, the head of the EU's observer team. "It's not over yet but [I think] the result is clear. The percentages may be less clear but [Ms Megawati] will be lucky to get over 40%."

Mr Yudhoyono, 55, said he would wait for an announcement by the electoral commission before a formal declaration. "I am grateful to God, and thankful to the people of Indonesia," said the former chief security minister, who resigned in March just before the parliamentary election campaign.

"I am thankful to the Megawati government for establishing this kind of democracy. I will now consolidate [my supporters] and think about the steps I can take to reconcile my camp with the Megawati camp."

Ms Megawati's advisers said she would not concede until the result was beyond doubt.

"Yes, we are aware the quick counts have been accurate in the past but presidents do not resign on the basis of such quick counts," said Pramono Angung, a close aide.

It is unclear exactly where Indonesia is headed under a Yudhoyono presidency.

Analysts believe that he will have won because he has an image of being a strong leader who is honest and willing to interact with ordinary people. Ms Megawati was viewed as being aloof and surrounded by many untrustworthy politicians, despite a campaign to alter her image.

Adding to the uncertainty is the fact that much of the rest of the political landscape is also new. There is a new upper legislature and some 60% of the newly-elected MPs in the lower house are entering parliament for the first time. Many of the biggest political parties are fracturing, with members siding with each camp in the presidential race.

"There are so many new factors out there it is impossible to predict exactly how Indonesian politics will develop in the next few months," one western diplomat said.




Today's Top News
Top World News

Watchdog to intensify fight on corruption




Jiang: Hu's takeover "natural and convincing"




Website video shows beheading of American




Premier Wen meets Macao chief Edmund Ho




US donation to help lower rural pollution




Farmers' income grows 16.1%