Death toll in Haiti floods tops 550
(Agencies)
Updated: 2004-09-21 08:44
More than 550 people are dead in Haiti from flooding and mudslides triggered by Tropical Storm Jeanne and aid workers said half of the northern coastal city of Gonaives was still underwater on Monday.
The storm, which has strengthened to a hurricane, sent heavy rains and a wall of muddy water crashing through several northern towns over the weekend. Rescue workers were struggling to reach stranded residents and recover bodies.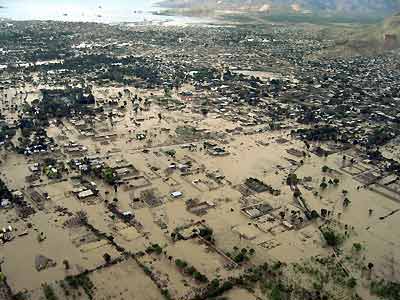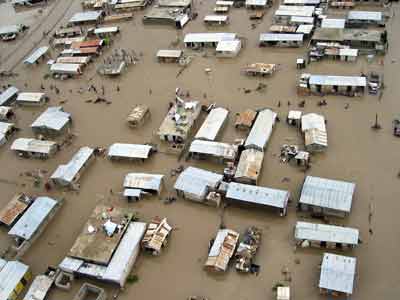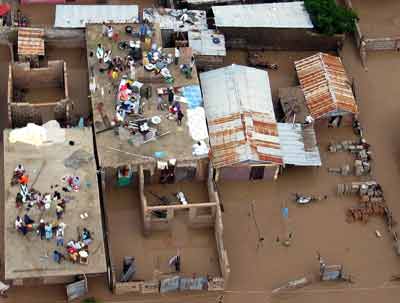 The northern Haitian city of Gonaives is seen flooded on September 19, 2004 after Hurricane Jeanne passed through.[Reuters]


In Gonaives, "more than 500 people have been killed," said Elie Cantave, the government delegate for the Artibonite province, which includes Gonaives.

The city is the birthplace of Haiti's independence from France 200 years ago.

Forty-seven people were also confirmed killed in the northwest province, around the town of Port-de-Paix, said Henry Max Thelus, a government official. Eight deaths were recorded elsewhere, putting the total death toll at 556.

Interim Prime Minister Gerard Latortue declared three days of national mourning.

Half of Gonaives remained underwater, and 80 percent of its inner urban population of over 100,000 had been affected by the floods, which at one point forced hundreds of people to take refuge on the roofs of their homes, said Anne Poulsen, spokeswoman for the U.N.'s World Food Program in Haiti.

Cantave said the region was in dire need of drinking water.

Twelve trucks carrying 40 metric tons of food left the capital Port-au-Prince on Monday and headed to Gonaives, said Poulsen. The World Health Organization was sending medicine, and 15 trucks from the Brazilian-led U.N. force to support a detachment of Argentine peacekeepers stationed in the city.

"It's not just people's houses, it's also crops and livestock that have been washed away. So it will take quite some months before people will be able to cope by themselves again," Poulsen said. "Nature is tough on Haiti."

Haiti, the poorest country in the Americas, is frequently lashed by flash floods and mudslides because of extensive deforestation. Around 2,000 Haitians died when extensive floods washed away villages near the Dominican-Haitian border in May.

U.N. spokesman Toussaint Congo-Doudou said that at the height of the flooding, the water was 9 feet deep in Gonaives and the current was so strong it swept away military trucks. U.N. helicopters were used to pluck people from their rooftops.

A woman who was about to give birth in the street as muddy waters swirled around her legs was rescued by U.N. police.

The fresh blow from nature came on top of bloody political conflict that saw Aristide flee into exile on Feb. 29. A Brazilian-led U.N. force is trying to keep the peace.

Jeanne also killed 11 people in the Dominican Republic, which shares the island of Hispaniola with Haiti, and two in the U.S. territory of Puerto Rico.

It briefly became a hurricane, weakened during the weekend, and then strengthened again into a hurricane with 85 mph (136 kph) winds on Monday.

But it no longer threatened land, forecasters at the U.S. National Hurricane Center said. Jeanne was about 370 miles east-northeast of the Bahamian island of Great Abaco, drifting toward the northeast and expected to turn to the east by Tuesday.

That would keep it away from the Bahamas, and spare Florida, hit by three big hurricanes in the past five weeks.

Likewise, Hurricane Karl presented no immediate threat to land as it swirled in the open Atlantic, 965 miles east-northeast of the Lesser Antilles, with winds of 120 mph.

Meanwhile, a new tropical storm has formed in the Atlantic. Tropical Storm Lisa was 870 miles west of the Cape Verde islands, with 65 mph winds and could strengthen into a hurricane as it moves west toward the Caribbean islands, forecasters said.




Today's Top News
Top World News

Watchdog to intensify fight on corruption




Hu: Jiang sets a splendid example




Premier Wen meets Macao chief Edmund Ho




Website video shows beheading of American




US donation to help lower rural pollution




Stocks soar for fifth day