Video shows beheading of American hostage
(Agencies)
Updated: 2004-09-21 08:04
A video posted Monday on a Web site showed the beheading of a man identified as American civil engineer Eugene Armstrong. The militant group led by Abu Musab al-Zarqawi claimed responsibility for the slaying and said another hostage — either an American or a Briton — would be killed in 24 hours.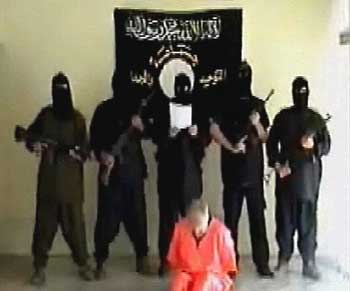 A video grab image on an Islamist internet site shows American hostage Eugene Armstrong prior to his execution September 20, 2004. A militant group headed by al Qaeda ally Abu Musab al-Zarqawi said on Monday it had beheaded an American hostage and posted a video of the killing on the Internet.The video, identified the hostage as Eugene Armstrong and showed a masked man sawing his head off with a knife. [Reuters]

The grisly decapitation was the latest killing in a particularly violent month in Iraq, with more than 300 people dead in insurgent attacks and U.S. military strikes over the past seven days. Earlier Monday, gunmen in Baghdad assassinated two clerics from a powerful Sunni Muslim group that has served as a mediator to release hostages.

The video of the beheading of the man believed to be Armstrong surfaced soon after the expiration of a 48-hour deadline set earlier by al-Zarqawi's Tawhid and Jihad group for the beheading of the three civil engineers. The men — Armstrong, American Jack Hensley and Briton Kenneth Bigley — were abducted Thursday from their home in a wealthy Baghdad neighborhood.

A militant whose voice resembled al-Zarqawi, who has been linked to al-Qaida, read a statement in the video saying the next hostage would be killed in 24 hours unless all Muslim women prisoners are released from U.S. military jails.

"You, sister, rejoice. God's soldiers are coming to get you out of your chains and restore your purity by returning you to your mother and father," he said before grabbing the hostage, seated at his feet, and cutting his throat.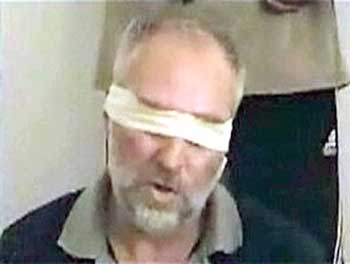 A hostage said to be American Eugene Armstrong is seen in this video posted on the Internet by an Islamist website on September 18, 2004. A militant group headed by al Qaeda ally Abu Musab al-Zarqawi said on Monday it had beheaded an American hostage, identified as Armstrong, and posted a video of the killing on an Islamist site. The video showed the banner of Zarqawi's Tawhid and Jihad group, which said it had kidnapped the hostage along with another American and a Briton in central Baghdad last Thursday. The video was the first word on the three men since a 48-hour execution deadline set by the group on Saturday expired earlier in the day.[Reuters]

In Washington, a U.S. official, speaking on condition of anonymity, said Armstrong's body had been recovered, but the official would provide no information about where or when.

The taped beheading appears to be of Armstrong, but the CIA is still reviewing the tape to be sure, the official said.

The 9-minute tape, posted on a Web site used by Islamic militants, showed a man seated on the floor, blindfolded and wearing an orange jumpsuit — similar to the orange uniform worn by prisoners at the U.S. naval base in Guantanamo Bay, Cuba — with his hands bound behind his back. Five militants dressed in black stood behind him, four of them armed with assault rifles, with a black Tawhid and Jihad banner on the wall.

The militant in the center read out a statement, as the hostage rocked back and forth and side to side where he sat. After finishing, the militant pulled a knife and cut his throat until the head was severed.

The victim gasped loudly as blood poured from his neck. His killer held up the head at one point, and placed it on top of the body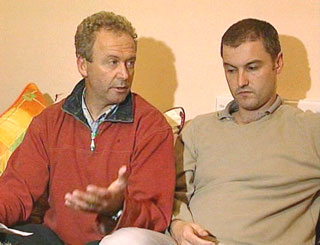 A video grab from Independent Television News shows Craig Bigley (L), the son of British hostage Kenneth Bigley who is being threatened with execution in Iraq, appealing to Britain's Prime Minister Tony Blair to meet the demands of his kidnappers and save his life, September 21, 2004. Bigley was being held hostage along with two Americans Jack Hensley and Eugene Armstrong by the Tawhid and Jihad group headed by al Qaeda ally Abu Musab al-Zarqawi, which seized the three Westerners from their home last Thursday. Armstrong was beheaded in a gruesome murder shown on the Internet video over night. [Reuters]

"The fate of the first infidel was cutting off the head before your eyes and ears. You have a 24-hour opportunity. Abide by our demand in full and release all the Muslim women, otherwise the head of the other will follow this one," the speaker said.

Tawhid and Jihad — Arabic for "Monotheism and Holy War" — has claimed responsibility for killing at least six hostages, including Armstrong and another American, Nicholas Berg, who was abducted in April. The group has also said it is behind a number of bombings and gun attacks.

In a video Saturday setting the 48-hour deadline, the militants demanded the release of female Iraqi prisoners detained by the U.S. military. The military says it is holding two women with ties to Saddam Hussein's regime, including Dr. Rihab Rashid Taha, a scientist who became known as "Dr. Germ" for helping Iraq make weapons out of anthrax, and a biotech researcher. But there may be women held as common criminals.

They said no women were being held at the U.S. military prison at Abu Ghraib, west of Baghdad, where American soldiers were photographed sexually humiliating male prisoners, raising fears about the safety about women detainees.

The militant on the video called President Bush "a dog" and addressed him, saying, "Now, you have people who love death just like you love life. Killing for the sake of God is their best wish, getting to your soldiers and allies are their happiest moments, and cutting the heads of the criminal infidels is implementing the orders of our lord."

Armstrong grew up in Hillsdale, Mich., but left the area around 1990. His brother, Frank, still lives there. Armstrong's work in construction took him around the world; he lived in Thailand with his wife before going to Iraq.

The other American hostage, Jack Hensley, 48, made his home in Marietta, Ga., with his wife Patty and their 13-year-old daughter. Kidnapped with the Americans was Briton Kenneth Bigley, 62. All three worked for Gulf Services Co. of the United Arab Emirates.

In a statement released after the video was posted, Armstrong's family said: "This is what we did not want to hear. We are praying for Jack Hensley and Kenneth Brigley and their families."

At least 55 American civilians have died in Iraq since President Bush declared major combat complete on May 1, 2003.

In addition to Armstrong and Berg, at least two other Americans have been beheaded since Bush launched the war on terrorism following the Sept. 11 attacks. Paul M. Johnson Jr., a 49-year-old engineer, was decapitated by militants in Saudi Arabia in June. Wall Street Journal reporter Daniel Pearl was killed in Pakistan in 2002.

U.S. Army Spc. Keith M. Maupin, 20, of Batavia, Ohio, is officially listed by the military as missing. Maupin disappeared in Iraq on April 9 after an attack on a fuel convoy. Arab television reported June 29 that he was killed but did not broadcast a video it said showed his shooting death. U.S. military could not confirm that a man shown being shot in videotape was Maupin.

Also missing from that convoy attack are contract truckers William Bradley and Timothy Bell, both Americans.

Armstrong's slaying came on the heels of the beheading — apparently by a group of Sunni insurgents — of three Kurdish militiamen taken hostage in the north.

More than 100 foreigners have been kidnapped in Iraq, some for lucrative ransoms, and at least 26 of them have been executed. At least five other Westerners are currently being held hostage here, including an Iraqi-American man, two female Italian aid workers and two French reporters.

On Monday, kidnappers released a group of 18 abducted Iraqi National Guard members after renegade Shiite cleric Muqtada al-Sadr called for their release, an al-Sadr aide Nail al-Kabi told The Associated Press.

Insurgents have used kidnappings and bombings as their signature weapons in a 17-month campaign to undermined the interim government of Prime Minister Ayad Allawi and force the U.S. and its allies out of Iraq.

North of Baghdad, insurgents attacked a U.S. patrol near the town of Sharqat, killing an American soldier.

U.S. warplanes struck in the Sunni insurgent stronghold of Fallujah, killing two people. The military said the attack hit equipment that militants were using to build fortifications in the city and that care was taken that "no innocent civilians" were there at the time. Doctors said the dead were municipal workers using a bulldozer on construction projects near the railway station.

In Mosul, a car bombing killed three people. The number of car bombings so far in September in Iraq, 32, is the highest recorded in any single month during the conflict.

A Web site statement posted Monday in the name of al-Zarqawi's Tawhid and Jihad group condemned the killing of the two Sunni Muslim clerics in Baghdad.

Gunmen shot and killed Sheik Mohammed Jadoa al-Janabi as he entered a mosque in the capital's predominantly Shiite al-Baya neighborhood to perform noon prayers Monday.

The previous night, gunmen kidnapped Sheik Hazem al-Zeidi and two of his bodyguards as he left a mosque in another largely Shiite neighborhood, Sadr City. The bodyguards were released Monday.

The two clerics belonged to the Association of Muslim Scholars, a grouping of conservative clerics that opposes the U.S. presence in Iraq and has emerged as a powerful representative of Iraq's Sunni minority.

The association is believed to have contacts with Sunni militants but denies that it has an active role in the insurgency. It has interceded often in the past to win the release of foreign hostages, and militant groups have asked the association for a religious ruling on whether kidnappings and killing of hostages are permitted.

Clerics from the association have been killed in the past — most recently in February. But the motives in those and the latest slayings have been unclear. There have been tit-for-tat killings of Shiite and Sunni clerics in the past year, widely believed to be motivated by sectarian sentiments.




Today's Top News
Top World News

Rally marks 55th birthday of CPPCC




Wen: China supports Russia to fight terrors




Website: 2nd US hostage killed in Iraq




Livestock exports to Mideast resume




Border issue solved with Kyrgyzstan




Yukos called to honour commitments