"Bicycle Kingdom" rules no more
By Lin Jianyang (China Features)
Updated: 2004-09-21 02:57
As Liu Min pedalled to work several years ago, he never dreamt he would one day be sitting in the comfort of his private car to do the same distance.
Twice a day, the 36-year-old would join streams of cyclists for the journey from his home in western Beijing to his downtown office -- then back again. The journey took just over half an hour.
"In fact, going to work by bike is fine with me except in bad weather," said Liu, an employee with China Post.
"But I've always dreamed of owning a car. Cars make travelling around a lot more convenient in a big city, or to get out to the suburbs. I love to travel," he said.
He feels that Beijing, the country's second largest city after Shanghai, is simply too big for cyclists.
Liu's life has changed dramatically since February, when he bought a sports-utility vehicle for 85,000 yuan (US$10,291). He bought a domestic brand, Safe, which is made by the Great Wall Automobile Holding Co based in Baoding, a city some 260 kilometres to the south of Beijing.
For Liu, who earns about 36,000 yuan a year (US$4,337), the price determined whether he bought a domestic brand or one made by foreign car giants like Volkswagen, or Toyota.
As well as saving money, the Safe saves him time -- although a growing headache in major cities is this increasing number of cars on the streets and the rush-hour traffic standstills.
"The car has shown its power to change our family's lifestyle," said Liu. Since he bought the car, Liu's family has since February travelled out to the suburbs at least four times.
Thanks to two decades of economic growth here, a growing number of Chinese are joining Liu and giving up their bicycles for cars.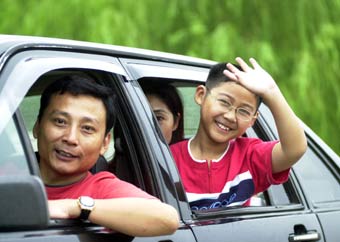 Tao Yong and his son smile as Tao, a resident in Jiaxing of Zhejiang Province, drives his family in his own car on an excursion to Suzhou of Jiangsu Province. Cars have brought changes to more and more people's lifestyles in China. [newsphoto]


Since 1990, the national economy has doubled in size, boosting living standards, especially in major cities and along the coast and whetting people's appetites for what they see as modern living.

Annual household incomes in major cities are reaching or exceeding the US$4,000 mark, which is regarded as the take-off point for private car ownership on a large scale.

At the same time, banks and major carmakers in China are moving into the credit business.

More importantly,Western and Asian auto giants hasten to get a finger in the world's fastest-growing auto pie either by setting up joint ventures or increasing export to China.

Zhang Xiaoyu, vice-chairman of the China Machinery Industry Federation, said China's auto production had been growing by 15 per cent a year on average in the last decade, and that this year China will produce at least five million motor vehicles, about half of them cars.

China often plays host to new models making their debut on the market, and a series of price wars has been reshaping the galloping industry since 2000.

Take Santana, a four-door saloon car with a boxy, plain exterior, made by Shanghai-Volkswagen, a Sino-German joint venture. In 1985 Santana cars first appeared on the market and sold for 60,000 yuan (US$22,890) apiece . At that time, a typical Chinese worker's annual income was no more than 1,800 yuan (US$217.65). The price of a Santana hit 182,300 yuan (US$22,043) in 1993 when an ordinary worker earned just 7,200 (US$870.62) per annum.

Despite sky-high prices, Santana commanded half of China's car market for at least 10 years. The simple reason was that Santana during this period was "the emperor's daughter" -- a thing of scarcity that never needed to worry about not being desired.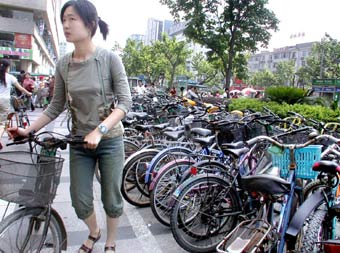 A woman leaves a parking lot with her bicycle in Hangzhou, Zhejiang Province. Bicycling still remains a major way of commuting for many people despite that the number of private cars is on the rise. [newsphoto]


Since the late 1990s, however, Shanghai-Volkswagen has had to cut its Santana prices every year to meet ever-fiercer competition. The basic version of the Santana sedan now sells for no more than 85,000 yuan (US$10,240) apiece. Its market share has fallen to less than 6.7 per cent, out of 10 top-selling models, according to statistics released the by China Association of Automobile Manufacturers.

Market dominance by the Santana ended within about a decade, a period that witnessed the emergence and rise of strong competitors as well as private-owned carmakers.

As Santana gets left behind, a stream of new cars is coming onto the market with lower prices and a better look. As a result, owning a family car has come within, or near, the reach of the country's growing middle class, like the Liu.

Individuals account for an increasing share of car sales, supplanting purchases by institutions, including government departments and businesses.

Statistics released last June by the National Bureau of Statistics indicate that at least 10 million autos are privately owned in China.

In Beijing, which boasts the highest rate of private car ownership in the country, more than 1.28 million autos are owned by individuals, 64 per cent of the city's 2 million registered vehicles by 2003.

According to Beijing Traffic Administration, the number of registered motor vehicles in Beijing has doubled in a mere seven years, between 1997 and 2003.

Of the 1.28 million private-owned vehicles in Beijing, more than 800,000 are cars, says Zhang Jingli, deputy director of the traffic administration. The number is rising fast.

"Since early 2003, each working day has seen the registration of 800-900 private cars in the city," Zhang said. "That's around 200,000 units a year."

People in other parts of China are doing the same, though growth is not as fast as in Beijing.

According to Chen Hong, general manager of Shanghai GM, General Motor's joint venture in Shanghai, at least 100 million Chinese families are likely to buy cars in the coming 10-15 years -- making China the world's No 1 auto market.

Industry officials say annual auto sales in China may reach 10 million units a year by 2010, second only to the United States.

In 2003, China produced two million cars, up 83 per cent over the previous year, according to China Association of Automobile Manufacturers.

China is now the world's fourth largest car producer, behind the United States, Japan and Germany, the association said.

It looks as though the tradition of cycling and China's nickname as the "Bicycle Kingdom" will soon be driven out forever.




Today's Top News
Top China News

Watchdog to intensify fight on corruption




Hu: Jiang sets a splendid example




Premier Wen meets Macao chief Edmund Ho




US donation to help lower rural pollution




Stocks soar for fifth day




Farmers' income up 16.1%