Indonesian presidential election ends
(Agencies)
Updated: 2004-09-20 15:09
Indonesia's 567,000 polling stations closed as the world's fourth-most populous country marked the end of its first-ever direct presidential election.
President Megawati Soekarnoputri, 57, is seeking re-election for a full five-year term, having been in power since July 2001 after parliament removed Abdurrahman Wahid.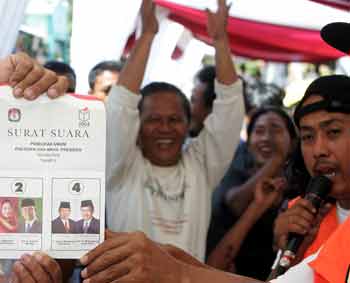 Indonesian election officials start to count the ballots at a polling station in central Jakarta on September 20, 2004. Former army general Susilo Bambang Yudhoyono look an early lead in Indonesia's presidential elections on Monday as first vote returns were counted, the election commission said. [Reuters]


Susilo Bambang Yudhoyono, 55, is challenging Megawati after serving as coordinating minister for political and security affairs for more than four years. At least two surveys last week showed he was leading. If he wins, he becomes the fifth president in six years.

"The election means the end of a period of uncertainty," said Christopher Wood, global strategist at CLSA Ltd., the top-ranked Asia strategist in Institutional Investor's survey last year. "This whole election process has been extremely calm, which is fundamentally bullish."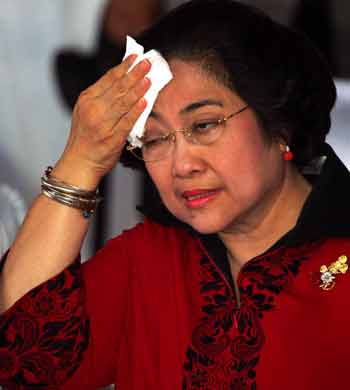 Indonesian President Megawati Sukarnoputri wipes her face before casting her vote in Jakarta September 20, 2004. [Reuters]


The winner takes charge of Southeast Asia's largest economy and Indonesia's 235 million people, with the twin challenges of creating job security and pushing political changes including wealth and power distribution among 32 provinces. With a direct election, the people and not parliament now choose the country's leader. Polls closed at 1 p.m. Jakarta time for the more than 153 million Indonesians who were eligible to vote.

In the past month, the Jakarta Composite Index gained 11 percent in dollar terms, helping the currency gain 2.4 percent to the dollar. There has been little violence this election year, unlike riots accompanying the 1999 vote. Today is a public holiday. Trading resumes tomorrow.

Investment Plans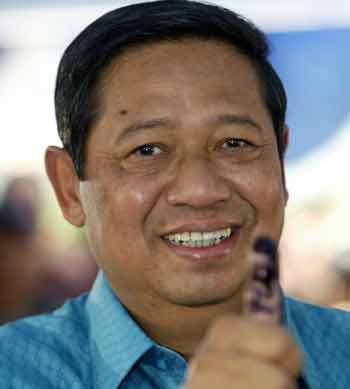 Indonesian presidential candidate and frontrunner Susilo Bambang Yudhoyono shows his ink-marked thumb after casting his vote near his home south of Jakarta, September 20, 2004. [Reuters]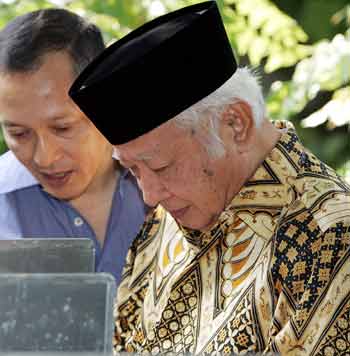 Former Indonesian President Suharto (R), accompanied by his son Sigit Harjojudanto, votes near his residence in central Jakarta on September 20, 2004. [Reuters]

Mark Mobius, who manages US$13 billion in emerging market assets at Templeton Asset Management Ltd., says he'll consider buying Indonesian equities if Yudhoyono wins.

"If you look at Megawati's record, it hasn't been very good," he said. Yudhoyono "looks like he'll be a reformist."

The Institute for Social & Economic Research, Education & Information, or LP3ES, will have an indicative result later today using a statistical method to predict the outcome for all 32 provinces based on a sampling of actual votes.

A survey done last week by Lembaga Survei Indonesia, a Jakarta-based, Japan-funded research body, showed Yudhoyono winning 56.2 percent of the votes over Megawati's 34.3 percent. About 13 percent were undecided, the survey of 2,760 respondents showed. It has a 2 percent error margin.

Terrorist Attacks

A bomb attack on the Australian embassy in Jakarta 11 days ago added terrorism to voter concerns on unemployment, inflation and corruption. Some say Yudhoyono gained support, given his military background. Others argue voters favor familiarity over change in times of shock and insecurity.

"The largest gap for Yudhoyono over Megawati is on issues dealing with security," shows a survey by the International Foundation for Election Systems, or IFES, taken between Sept. 2 and 9. Out of 2,000 respondents, 59 percent said Yudhoyono would do a better job while 20 percent favored Megawati. The survey has a 2.2 percent margin of error.

Indonesia is battling Jemaah Islamiyah, a Southeast Asia- based terrorist network linked to al-Qaeda. The government blames the group for three terrorist attacks in as many years, which together claimed at least 223 lives and injured 700 people.

"Since terrorism is also the result of poverty, lack of education, and injustice, these problems should be solved," Yudhoyono said last week.

Job creation remains the biggest challenge, with an estimated 40 million people or 40 percent of the workforce unemployed or under-employed, said Prabowo, a trade strategist for the United Nations Support Facility for Indonesian Recovery.

"That's the top priority," he said.

Fuel Subsidies

Indonesia, an oil-rich country, has failed to capitalize on high oil prices without winning investments to raise production. It has been importing oil to meet domestic needs, which it subsidizes.

"The new government must have the courage to reduce fuel subsidies," Prabowo said. The government forecast spending 63.6 trillion rupiah (US$7 billion) on fuel subsidies this year, 3.2 percent of the budget, money that "can easily be switched to education, health, or infrastructure," he said.

Fuel subsidies are a sensitive topic in Indonesia, where the poor use kerosene for cooking. More than half the population lives under the poverty line, the World Bank says, defined as less than US$2 a day.

Reducing fuel subsidies sparked riots in the last days of President Suharto in 1998, forcing him to end 32 years of military dictatorship and paving the way for the first democratic elections in 1999.




Today's Top News
Top World News

Watchdog to intensify fight on corruption




Hu: Jiang sets a splendid example




Premier Wen meets Macao chief Edmund Ho




Website video shows beheading of American




US donation to help lower rural pollution




Stocks soar for fifth day