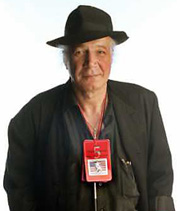 Photographer Eddie Adams, photographed at the Republican (GOP) National Convention in Houston, Texas in August 1992. (Reuters)
American photojournalist Eddie Adams, whose searing picture of the execution of a communist guerrilla during the Vietnam War defined his career, died on Sunday aged 71, U.S. media reported.
Adams, who died at his New York home of Lou Gehrig's disease, won a Pulitzer Prize for his 1968 photograph of a South Vietnamese colonel executing a communist North Vietnamese Vietcong prisoner in a Saigon street.
One of the most memorable images of the Vietnam War, Adams' photo for the Associated Press showed the exact moment when the bullet entered the prisoner's head and has been called one of the most shocking and moving pieces of war photography.
Adams' photographs graced the covers and front pages of magazines and newspapers around the world, including Time, Newsweek, Life, Paris Match, Vogue, Stern and The New York Times, and he won numerous awards for his work.
Born in New Kensington, Pennsylvania, Adams served as a Marine Corps combat photographer in the Korean War, worked for the AP between 1962-72 and 1976-80, and for Time-Life among other publications.
AP President and CEO Tom Curley said: "Eddie Adams was an enormous talent and an inspiration to generations of AP photographers and staffers. His courage and creativity left a mark that will live forever," AP reported.
(Agencies)