Iraq group shows tape of beheading 3 Kurds
(Agencies)
Updated: 2004-09-20 09:25
An Iraqi Islamist group said on Sunday it killed three members of the Kurdistan Democratic Party (KDP), which cooperates with the Iraqi government, and posted a video tape on its Web site of the apparent beheadings.
The tape from the Army of Ansar al-Sunna appeared to show the heads of three young men being severed and placed on top of their bodies. The three men were shown introducing themselves as KDP members and showing their identification papers.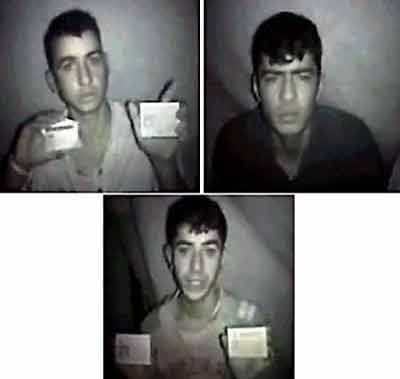 Three members of the Kurdistan Democratic Party (KDP) are shown in a combination video image released September 19, 2004 moments before they were apparently beheaded.[Reuters]


The militant group said in a statement the bodies of the three "agents" were left near Mosul to serve as an "example."

"The puppet Kurdish groups...have pledged allegiance to the crusaders and continue to fight Islam and its people," said the statement signed by the group and dated Sunday.

The group said it had ambushed the three men near Taji, a town just north of the Iraqi capital Baghdad, as they were moving military vehicles to a base in northern Iraq.

A Kurdish political source said the three men were ordinary Kurds who had been abducted when their car broke down.

The source said the men shown on the tape were believed to be those whose decapitated bodies were found Wednesday dumped in bags by a roadside north of Baghdad.

The KDP is one of two main Kurdish groups represented in Iraq's interim government. Foreign Minister Hoshiyar Zebari is a top KDP member.




Today's Top News
Top World News

Hu takes over as CPC military commission chief




Jiang retires, proposes Hu to succeed




Iraq group shows tape of beheading 3 Kurds




Corrupt land minister expelled from CPC




Vice premier: Economic curbs are working




Bomb threat postpones Beijing trade fair